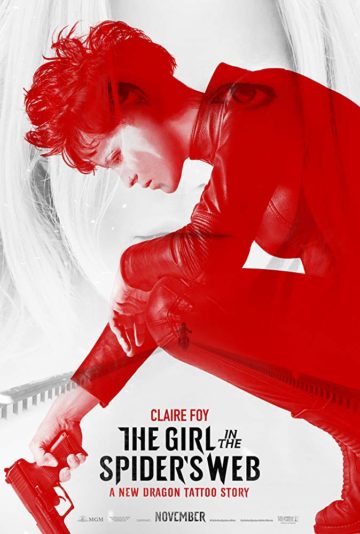 [Rating: Swiss Fist]

An apology to the trio of Rooney Mara, Daniel Craig, and David Fincher: Sony did all three of you wrong. Yes, back in 2011 when The Girl with the Dragon Tattoo had an American remake that didn't live up to the box office expectations of Sony, all further sequels with this duo of good actors was put at rest. I remember my 17-year old self having to talk my way into actually seeing that because I forgot my ID. It was, at the time,  pretty kick ass.
And now, seven years later for both myself and the franchise, Sony has brought the punk Lisbeth Salander back. This time, however, they've replaced her with somebody armed with an all-new story that's also all too familiar, akin to any spy film that came before it. Yes, The Girl in the Spider's Web (directed by Fede Alvarez)is a minor work that was probably never going to satisfy fans of Fincher's film or of the original Swedish film(s). It's a serviceable, mildly disappointing story that dives into Salander's past, a journey that makes sense and lifts he film up a bit from being completely ordinary.
Lisbeth Salander, now played by Claire Foy, in a mixture of an English and a Swedish accent, which is strange (somebody get her Meryl STAT). She is hired by Frans Balder (Stephen Merchant) a former NSA employee who has developed a program that access all of the world's nuclear codes. Yes, somebody actually does that as a hobby. And of course, those codes are stolen and Lisbeth, alongside Balder's son August (Christopher Convery) and friend and journalist Mikael Blomkvist (Sverrir Gudnason) have to find them and destroy them. Meanwhile NSA agent Edwin Neeham (LaKeith Stanfield) has a lot of sick leave available, because he finds himself both hunting down Salander for stealing his entire network of files and becoming an ally when she needs him the most. All of this takes place in the cold and frigid of Sweden. In addition to all of this, a mysterious woman (Sylvia Hoeks)and her gang from Lisbeth's past comes to haunt her again in the quest to find the stolen codes.
It's a lot to take in I know — It's pretty much James Bond.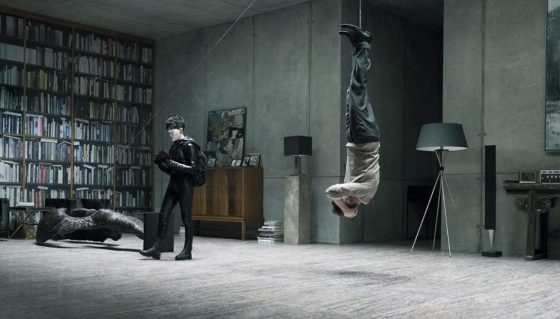 It's hard to say how enjoyable this film is. Much like its predecessors, it's cold, violent, and dark, but never achieves those levels of shock value. There are two great scenes in this film, and they both bookend the movie, which is really surprising. A Salander story should have multiple moments that are surprising but this had merely two. This is more a toned down version of Salander and her life, especially because we get to see a more humanistic, less stone-cold Lisbeth. Foy's interpretation of the character is fine, but unlike say Mara (and you can't compare things like this I know, but bear with me), you can see Foy acting. Lisbeth never felt like a polished, clean girl but instead a gritty no-holds-barred badass who only listened to herself. Looking back on Mara's performance, one remembers that she inhabited that no-compromise version of the role completely.
If anything, this film is very plot heavy, which works well. It's not the most interesting of stories, but even with the numerous plots going on, they all come together well enough into a coherent whole. The late Stieg Larsson I hope would be fine with where his characters went. Having Lisbeth face her past was a good choice to make for a sequel. It adds even more layers to her already complex life. We get to see maybe why she hates men and protects women, and why she turned away from her family. I hate not getting any of the sequels Americanized from the original trilogy, but this new story that Larsson started, which was finished by David Lagercrantz, is just fine.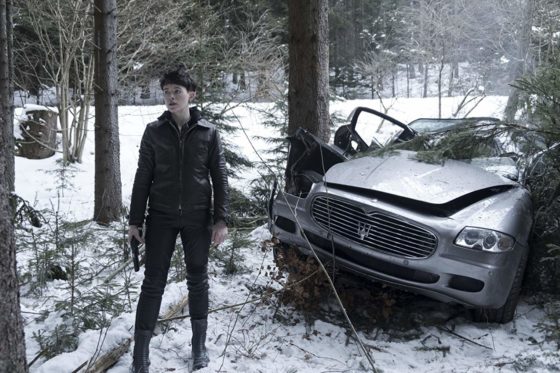 Overall, The Girl in the Spider's Web takes me aback a bit. It's a shame this franchise had to get a soft reboot because where it started was fine and where it wants to go doesn't seem very exciting — not even the opening credits that try to mimic its predecessor sans Immigrant Song really work in this. It's a mixed bag, and I'm mixed on Foy's interpretation of the main character, but in the end, I remain hopeful about seeing more of these stories, if only because they're sometimes the right thing to see on a cold, wintry night.