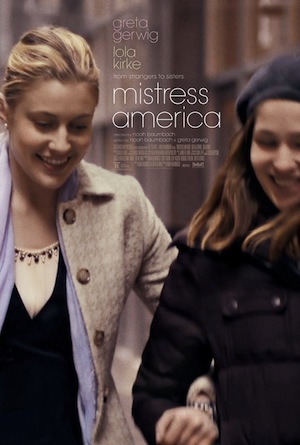 The films of Noah Baumbach have two constants, his love of New York and his obsession with moments of transition. His latest film Mistress America is no different, though more distilled and hilariously funny.
Tracy (Lola Kirke), a college freshman, has moved from suburban New Jersey to New York City to attend school. A bookish introvert, Tracy, like so many 18 year-olds, has yet to find her confidence and her own unique voice. At the urging of her mother, Tracy meets up with 30-something Brooke (Greta Gerwig), Tracy's soon-to-be stepsister.
Brooke is a staunch creative and liver of life. Beyond the age when most of her peers have begun to settle down into a mixture of career and family, Brooke is a self-possessed, yet compassionate modern day snake oil salesman. She has an endless list of talents without having any tangible skills. In short, Brooke is the perfect mentor and muse for young Tracy.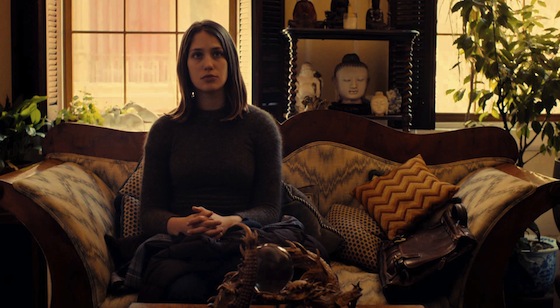 Having been rejected by her college's literary magazine, Tracy begins writing about her adventures with Brooke. From Brooke's attempt to start a restaurant, to her spinning class and elementary school tutoring, to Brooke's feud with former best-friend now nemesis Mamie-Claire (Heather Lind), Brooke's joie de vivre is just what Tracy needs to start embracing the joy and excitement of being alive.
Baumbach and Gerwig have crafted a screenplay that taps into the pain and delight of two distinct, but parallel, points of transition. Tracy represents the move from adolescence to adulthood. The awkward insecurity as well as the boundless enthusiasm that marks our final teenage years is present in Tracy. Lola Kirke's performance is compassionate, and critical. She is able to endow Tracy with the ability to do things that hurt others, without ever making her a malicious character. It is the inadvertent pain caused by the young and unaware, that creates understanding and growth.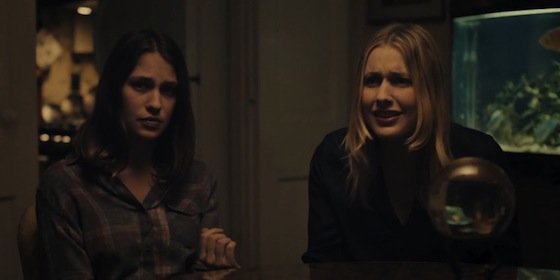 Greta Gerwig's Brooke embodies the shift from early, reckless adulthood to a more experienced, if less energetic middle age. Brooke hung on to her youthful ideals longer than her peers, but as each of her friends settles down into their chosen paths, Brooke becomes isolated by her own choice to hold tight to her creative goals. She is a source of inspiration to her contemporaries who have compromised their ideals, as well as to her younger companions, who aspire to be like Brooke, if only in her embrace of unlikely possibilities. But Brooke's growing loneliness, as well as the constant dull throb of daily life, begins to wear down even this stalwart creative.
I usually recommend Noah Baumbach's films, and Mistress Amerca gets my enthusiastic endorsement. See it for Baumbach's direction, which gives emotional weight to the comedy. See it for Gerwig's lovely performance filled with effervescent dialogue. See it because you are 18 or 34 or you remember being 18 or 34. There are plenty of reasons, just go and see Mistress America