It's hard to imagine a series as problematic as the Mission: Impossible franchise surviving 15 years, but here we are on the eve of 2012 once again following IMF agent Ethan Hunt (Tom Cruise) and company as they save the world.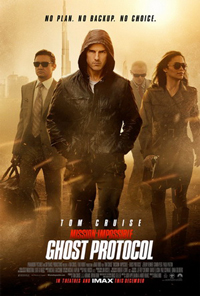 Brian De Palma kicked off the series with a pretty awful film saved by a break-in sequence so memorable that it's still parodied/aped a decade and a half later. John Woo's turn at the wheel (and his first truly big-budget Hollywood film) left some folks cold due to his trademark symbolism and operatic violence kick (which this reviewer absolutely adored; let me tell ya), while J.J. Abrams aimed to inject some post-Bourne grit (and his beloved lens flares) into the proceedings in his 2006 go.
We're not talking about a franchise with a whole mess of tonal consistency, but letting animation director Brad Bird (The Iron Giant, The Incredibles) get his first-ever live action direction on for M:I4 struck many a soul as one seriously risky choice. Guess what? Turns out the man responsible for the finest superhero film ever made might just be the guy who re-educates Hollywood on how to stage a truly amazing action film.
I shan't pretend that we're dealing with a mystery on par with Tinker, Tailor, Soldier, Spy, nor would I expect to with an Mission:Impossible film. What I've come to expect is a film that's really just an Americanized James Bond writ large, but surprisingly enough it's Ghost Protocol that delivers a story that feels as if it could be lifted from the show itself (and I say that in the most complimentary way).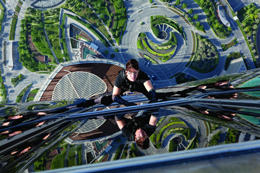 As a fellow who grew up during the nuclear paranoia of the 80s, it's almost jarring to find the threat of a nuclear war between the US and Russia at the heart of a film in 2011, but Mission: Impossible – Ghost Protocol kicks off the plot with an attack upon the Kremlin wrongfully pinned on Ethan Hunt and the IMF that has pushed the two nations as close to war as ever.
Political pressure has forced the disbanding of the IMF agency, and Hunt, along with senior analyst William Brandt (Jeremy Renner), field agents Benji Dunn (Simon Pegg returning for his second film) and Jane Carter (Paula Patton) are left to their own devices to track down and stop a rogue scientist (Vladimir Mashkov) who'll stop at nothing to instigate a nuclear purging of the earth.
Evil henchmen? Check. Gorgeous femme fatales? Check. Enough cool gadgets to make Q cry? Double-check. Straight-up, balls-out action that'll damn near stop your heart? Holy crap, folks..that box is so checked that the former Soviet Union just invaded it.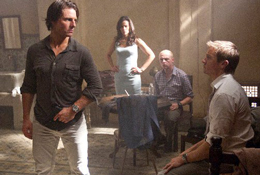 While an oddly Rubicon-esque plot is a plus, it's the action sequences that have defined the Mission: Impossible series since its beginnings, and this is where (again: first time live-action director) Brad Bird just knocks this film out of the park.
It's tough to describe what makes the action in this film work without robbing filmgoers of the impact and tension, but each action set-piece is handled with deft camera work and pacing that never once relies on the jump-cut/slo-mo orgy that's unfortunately de rigueur in American cinema at the moment. Fights feel visceral and kinetic, and the stunts…oh, man the stunts. The rope-less scaling of Dubai's famous Burj Khalifa hotel is stomach-churningly effective, and though crazy he may be Cruise deserves some serious credit for performing those stunts himself, as Bird gets to get us up close or as far back as needed to drive home the scale of a single man scaling the world's tallest building. Many a film would be content to let the viewer relax once that scene has ended, but Bird just glues the pedal down and doesn't let up via a tense con followed by a car chase through a raging sandstorm. In fact Bird pretty much refuses to let up for the remainder of the film by piling on tension to peak at a vicious climax that's blissfully free of quips or soliloquies.
As my long-time listeners know I'm not exactly an easy man to please, but I pretty much loved this film. Leaving aside some of the best action sequences in years, Mission: Impossible – Ghost Protocol gives us the first film where the entire team gets to shine rather than just stand in the cold white heat of Tom Cruise's intensity. Seriously, folks. Cruise smiles like twice. He's got brutal efficiency down pat.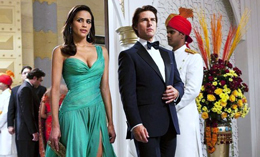 Simon Pegg walks the fine line between comic relief and able soldier with a deftness I didn't expect, and it's obvious Jeremy Renner is being groomed to take over the series once Cruise decides he's done (even if he's saddled with an unfortunate backstory that serves no purpose other than to acknowledge the last film). Paula Patton gets some choice moments that don't just rely on her looks. In fact, this is the only film in which a mission is run where Cruise isn't the point-man, but merely the support.
Anyone who's seen The Incredibles (and heard it's Mission: Impossible-tinged theme song) knows that the world of superspys and bigger-than-life threats has long been adored by Brad Bird, and that shows in nearly every aspect of the film.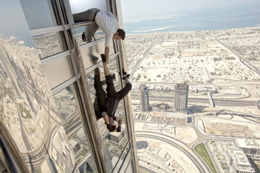 That's not to say that the film is flawless. There's the aforementioned backstory/subplot that's wholly unnecessary for the film to move forward (and threatens to completely undo the adrenaline rush during the coda), and while I enjoyed having a baddie who never stoops to speeches or pontificating on the justness of his cause, one can argue that he's such an unknown that he never truly feels like *the* threat.
And a forewarning to nerds like myself who can't help but cringe when the basics of how computer systems work is abused – There's a pretty egregious moment of "Holy shit, have you even ever SEEN a server?" that might cause your companions to tell you to calm down later.
But all in all, I'm left with walking out of the theater with a "Oh, hell yes" grin on my face, and a renewed sense of hope that action isn't a lost art in Hollywood. It's a film that remembers that "serious" action films can still be a hell of a lot of fun, and that clever beats convoluted every single time. Do yourself a favor and see this in IMAX if you can, and not because Christopher Nolan has decided that's the only way you get to see a tease of his latest cinematic assault on Batman The Dark Knight Rises prologue. The expanded format works beautifully for a film that's just a little too big and too audacious to fit on a smaller screen.
Aaron Weber can normally found hosting the Four Color Freak-Out podcast on dadsbigplan.com when he isn't wrestling rogue bears for charity. For an alternate take, check out his co-host Alan Rapp's review