If you need thrills, explosions and action in every movie, The Survivalist, new on VOD today, may not be for you. If a slow burning dramatic character study is your thing, however, it may be right up your alley.
Set in a world where oil production has come to a complete stop, society has completely collapsed. The population has plummeted for both people and wildlife around the world. But this movie takes a microscope to one man living in seclusion in a shack in the woods. We get no name, and barely a word is spoken in the first half hour. The survivor has managed to help grow plants with his own semen (and now that is in my Google search history) and excrement. He lives a quiet secluded life, that is until an older woman and who she claims as her daughter arrives.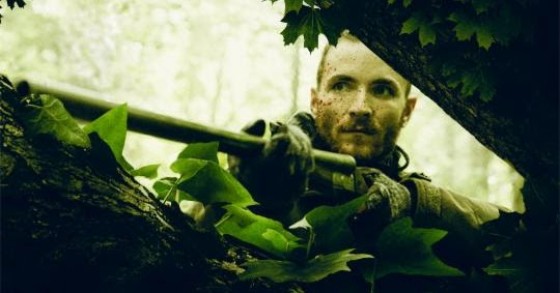 The Survivalist is the first feature length film from director Stephen Fingleton, whose previous work includes several short films. It stars Martin McCann as the title character as well as Mia Goth and Olwen Fouere. The film is an intimate look at how these three struggle to survive.
The man is extremely cautious, at first only allowing the women to stay one night after the older woman offers her so-called daughter (it's not made clear if they are being truthful about the claim) to sleep with the man. Afterward he tells them to leave, but the younger woman convinced him to let them stay.
The movie does an excellent job of showing us rather then telling. The dialogue is kept to a bare minimum in this bleak setting. There are plans of killing the man to lessen the mouths to feed until danger arrives, forcing the man to save the younger woman.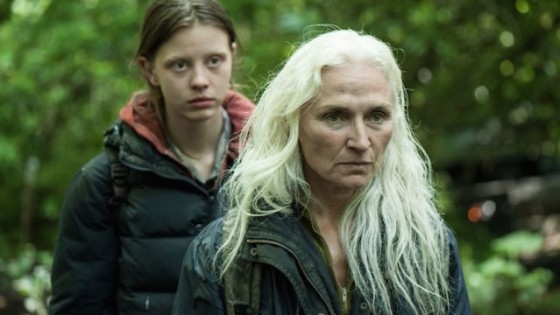 The tension only continues to tighten as the group is forced to hide from a group of raiders, and only resurrects plans of lessening the mouths to feed. This continues to complicate the relationship of the three, as the younger woman starts developing feelings for the man. Things continue to get complicated as the groups danger of getting attacked by more raiders increases, forcing tough decisions for all three.
While to many viewers, The Survivalist may seem to drag. It is definitely a slow burn of a post apocalyptic tale, honing in on the drama and unease of whether they can continue on in this small shelter.
For those with patience, however, and an interest in the details of how these characters struggle, The Survivalist succeeds greatly.