Will Eisner's "The Spirit" comic may have been about a masked crimefighter, but his hugely influential series (that ran originally from 1940-1952) was not a superhero comic. "The Spirit" blended elements of lighthearted adventure, romance, and horror, sometimes with a flair for the comedic. Writer/director Frank Miller seems to be on a mission to cram as many of these genres as possible into his offbeat movie adaptation, even if the mixture is about as natural as a flying reindeer.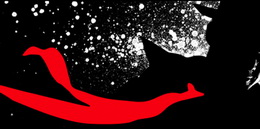 The respect that Miller has for Eisner's source material comes through in "The Spirit," even as the esteemed comic author ("The Dark Knight Returns," "300") infuses his film with his own fetish for noirish dialogue and buxom beauties. Like "Sin City," his 2005 collaboration with Robert Rodriguez based on his own graphic novels, "The Spirit" is shot almost exclusively in front of greenscreens with keyed-in backgrounds. The look is again monochromatic with splashes of color, but something about "The Spirit" seems even less cohesive than "Sin City."
The air of artifice hangs over every frame of "The Spirit"—backgrounds pop up and disappear at will, a surreal touch that takes the already stylized movie even more out of "the real," and into its own playfully designed world. The cinematography from director of photography Bill Pope ("The Matrix," "Spider-Man 2") is startling. In the most extreme case, there are big shards of deep red juxtaposed against hard black lines that fly up the screen in one background. Pope also uses low-angle shots and lots of close-ups to distort the movie's cartoonish characters even further. On the other hand, there are also a lot of blurry grays—an echo of the groundbreaking but literally unfocused "Sky Captain and the World of Tomorrow"—that seem like lazy substitutes for set design.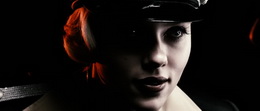 If I've concentrated too much on the look of the movie so far, that's because everything in the film hangs on its appearance. The over-the-top style has everything to do with why the characters behave the way they do. Gabriel Macht plays The Spirit, who patrols Central City at night looking for criminals. He works with the cops but operates outside of them, and his strange ability to heal wounds almost instantly makes him a valuable asset while his irresponsible behavior makes him a liability. Miller's fascination with "The Spirit" is similar to the theme of "Sin City": The city gives The Spirit all he needs. It provides him the opportunity to knock heads as much as he turns them, especially the ladies'.
Samuel L. Jackson is The Octopus, a crime boss who lives underground and has the same countenance for pain that The Spirit does. "They'll be at it all night," one observer says seeing that the two arch enemies have engaged in another fistfight, and sure enough, they pound each other silly face-to-face for a good seven minutes or so, neither able to kill the other. It's this kind of lackadaisical attitude toward all the bizarre goings-on from Octopus sidekick Silken Floss (Scarlett Johanssen) that really moves the film towards campy territory. That, and an incredibly hammy performance by Jackson, who looks like he's having even more fun than he did in "Snakes on a Plane." What do you expect from a movie that features an unending horde of dim-witted cloned henchman (all played by Louis Lombardi) who have grin-for-the-camera smiles on their faces despite taking on obvious bodily harm and life-threatening situations?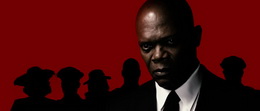 All this tomfoolery makes it a pretty fine line that Macht has to walk as the hero. One minute, death is tempting him as an Arthurian lady in the lake named Lorelei (Jaime King) beckons him to join her, and the next he's recounting his days as a youth and how Sand Saref, the girl of his dreams (Eva Mendes), ended up on the wrong side of the law. None of this is particularly convincing, but it's no fault of the amiable Macht, whose jocular nature seems above it all. Miller simply moves from pure camp to straightforward romance in scene after jarring scene. Hell, sometimes the actors are forced to get syrupy and silly in the same moment. It's a bold tactic, and one that will turn a lot of people off.
Movies like this that exist in their own overheated genre-iffic world are not easy to swallow for a lot of audiences. The sheer joy with which Miller approaches this material, though, is infectious, and "The Spirit" grew on me even as it confounded me. One particular set piece that featured a dental chair, Nazi imagery, and a deadly sword-wielding belly-dancer named Plaster of Paris (Paz Vega) was particularly hilarious. In another nod to Eisner's original comic (and a testament to how sexual attitudes have changed since the 1940s), every girl that comes in contact with The Spirit is attracted to him like a magnet.
"The Spirit" is an odd choice for a Christmas Day opener, but in this season of countless downbeat Oscar hopefuls, it's refreshing to see one movie that's overstuffed with something that the Academy couldn't care less about—ludicrous, campy fun.