I have always found the film When Harry Met Sally… problematic. Be it the stupidity of some of its most famous scenes, or the narcissistic unpleasantness of every character, I just never once believed the film was authentic on any level.
Perhaps it is a generational issue. I feel like I am stuck between two overly dramatic generations, the Baby Boomers and the Millennials that perform their lives instead of living them. If you watch When Harry Met Sally…, you will see this performance led around proudly like some prized mule. If you watch Spring Breakers you will see the scathing criticism of this behavior.
It makes sense. Both groups grew up under the shadow of new and invasive media technology. The Boomers were the first generation to grow up not knowing or barely knowing a time before television. The Millennials had the Internet and ever more mobile forms of media engagement.
For the group in between came a sort of generational introspection, which was sometimes exciting and sometimes crippling.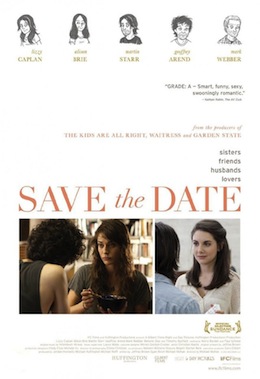 Michael Mohan's Save the Date explores some of the same ground as When Harry Met Sally…, but with the self questioning and skepticism that make it more approachable and believable to a contemporary audience.
While Beth (Alison Brie) prepares for her wedding with Andrew (Martin Starr), Beth's sister, Sarah (Lizzy Caplan), moves in with her long time boyfriend Kevin (Geoffrey Arend). Sarah's trepidation over the move comes to a head when Kevin, the lead singer in a popular indie band, proposes to Sarah from the stage at one of his shows.
Sarah moves out and quickly begins a relationship with Jonathan (Mark Webber), a local grad student and relentlessly nice guy.
Save the Date explores difficult emotional territory. This includes Beth's need to become what she thought her own parents were, and to collect all of the trappings that surround a wedding ceremony. Andrew, who wants to be married not get married, stresses Beth out with his supportive nonchalance.
Sarah looks to balance her own happiness and independence with her love first of Kevin then of Jonathan, each with their own way of stifling her.
Alison Brie continues to impress as a young talent. Her turn as Beth is wonderful and she is able to give subtlety and warmth to a character that could have devolved into a bridezilla. Lizzy Caplan's Sarah also could have become a free-spirited cliché, but Caplan folds in enough concern and anxiety in that Sarah becomes thoughtful, complex and real.
There are multiple complications throughout Save the Date's storyline, but Michael Mohan avoids trite solutions. Instead Mohan suggests that being there for each and our ability to communicate our feelings maybe all that is possible.