There are people in this world who are larger than life — whose presence beams with an aura. Through a remarkable performance and some skilled period art direction, one such movie star is recreated in a new movie, even if the title itself reeks of schoolboy wish fulfillment.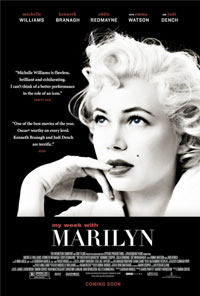 My Week With Marilyn is a frustrating lark of a film anchored by an impressive performance from Michelle Williams that can be admired on two fronts:
First, Williams does a wholly convincing and captivating impression of Marilyn Monroe the icon. In performance mode, she exudes the innocent sexuality and genuineness that made Marilyn Monroe the screen legend and pinup idol she was.
As she descends a staircase to a throng of admirers in one scene, Williams as Monroe turns to her young, smitten companion and says, "Shall I be her?" Suddenly she's leaning up against the wall, blowing kisses and waving, full of that magnetic Marilyn Monroe charm. And it's there. Right there in front of your eyes, Marilyn comes alive.
Secondly, Michelle Williams' interpretation of the woman behind the myth feels full of contradictions and completely plausible. The single most interesting aspect of My Week With Marilyn is the idea that in a movie with master thespian Laurence Olivier (played by Kenneth Branagh) where she was constantly being scolded for showing up late and not being prepared for her scenes, she still knocked it out of the park — while Olivier came off stiff and stodgy.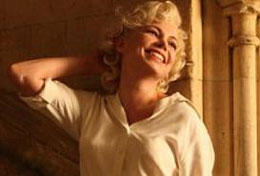 It is precisely her vulnerability and seeming inability to be fake that made Monroe such a screen presence, and Michelle Williams portrays the offstage Marilyn with both a sweetness and stubbornness that makes sense. Despite the constant presence of her on-set method acting coach Paula Strasberg (Zoë Wanamaker), what Olivier termed her "lack of discipline" was part of what made her magnetic to watch.
By making Marilyn an unpredictable character, haunted by bad choices and trapped by her own onscreen persona, Michelle Williams also helps to sell the paper-thin "romance" that is the reason this movie exists. If I haven't mentioned much about the plot, that's because it's the least interesting part of My Week With Marilyn.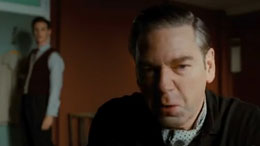 Based on the memoir and diaries of Colin Clark (played by Eddie Redmayne), then an impressionable young gofer on the Olivier film The Prince and the Showgirl, My Week With Marilyn is essentially a fluffy piece of escapism and nostalgia. Redmayne is wide-eyed and one-note, and a subplot between he and a young costume designer (Emma Watson) is underdeveloped as well.
What happened in real life between Clark and Monroe has only been told by Clark. The movie is a bit vague about their actual relationship, so that part of the film exists only as an excuse for us all to engage in a little fantasy role-playing of being smiled on by Marilyn Monroe for a week.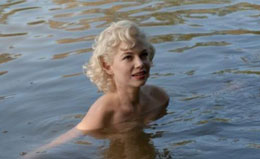 The upside is that we get to spend time with Michelle Williams as she channels Marilyn Monroe with all of her emotionally bruised small-town girl insecurities and sex-symbol charm into one potent package.
Kenneth Branagh is intriguing too, though, and My Week With Marilyn will be interesting for film fans for its recreation of the uncomfortable on-set atmosphere and Olivier's slow realization that his style and mode of acting for the camera is coming to an end.