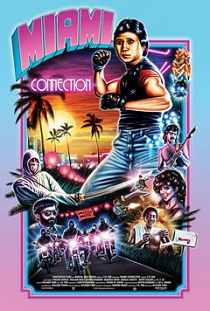 You can't fake passion, man.
With so many cookie-cutter, anything-for-a-buck films (from low-budget B-movies right up to the A-list-with-B-movie-recycled plots) crowding up the marketplace in theaters and home video, it's refreshing to see something borne out of love — something that's dripping with passion …
… especially if it's put together by people who had no idea how to make a movie in the first place.
Miami Connection is one of those rare films where the positive energy exuded by its oh-so-amateur cast and crew starts to rub off on you, despite the fact that almost all of the basic tenets of motion-picture storytelling are non-existent.
"We didn't have a screenplay, anything. I did not know you are supposed to have a screenplay. So sometimes on the location we wrote dialogue," said writer/star/producer/co-director Y.K. Kim about the 1987 shoot. "I did not have any idea. It was so busy." He also had seen maybe six movies in his lifetime, but he felt a moral imperative to preach the gospel and spirit of martial arts.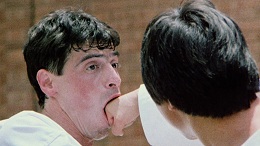 Miami Connection is true outsider art, and it created the same kind of giddy feeling in me that I get from listening to The Shaggs. Only it actually holds your attention for 83 minutes, interspersed with scenes so weird and unexplainable that they consistently entertain. Luckily for us, the film has been rescued from VHS obscurity by Drafthouse Films and is now showing in theaters again where it belongs.
"This damn…gang selling stupid cocaine."
Created by a Korean-born Tae Kwon Do teacher and motivational speaker (Y.K. Kim) who put up $1 million of his own money and cast the film with his Orlando-based martial arts students, it's full of horribly dubbed dialogue, abysmal acting, and ultra-cheesy 80s synth-pop. The plot is so bewildering that it is a unique pleasure to attempt to sum it up: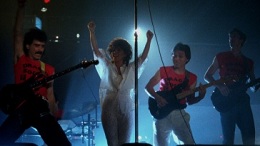 A group of multi-ethnic college-student orphans who rarely wear shirts and live together also moonlight in an original martial-arts-influenced band called Dragon Sound. The band that they replaced at the club tries to kill Dragon Sound in a street fight after berating them for minutes without moving a muscle. A local drug lord who has a team of motorcycle ninjas at his beck and call also wants to kill Dragon Sound because a band member is dating his sister. Meanwhile, all the students at the University of Florida high-five the band while they walk to class because they are so cool.
Despite being the driving force behind the film, Y.K. Kim has very little screen presence and speaks in broken English that is difficult to understand even when his enthusiasm is not. Co-director Woo-Sang Park (credited as Richard Park) spoke very little English at all, which might be a reason that the tone is all over the map, sometimes in the same scene.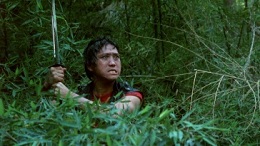 The movie is full of bizarre, disjointed, macho nonsense, yet it all comes off as charmingly naïve. Actors politely wait for the others in their scene to finish talking, then stumble over their own lines. Sometimes their "acting" goes from zero to 100 in one thrillingly stupid sentence. Transitional dialogue that was added later (perhaps to smooth out the lack of coherency) is sometimes overdubbed over landscape shots with no characters in them, so you can't tell who's talking. And the tough-guy one-liners sound like they were outtakes from an afterschool special.
"They don't make buns like that down at the bakery."
Sometimes it feels as though you are watching a movie from another planet. In an attempt to be rough-edged and cool, some of the fight scenes have unnecessarily gory outcomes. In one mortifying scene, biker girls with missing teeth lift up their shirts and try to impress the gang while half the extras look directly into the camera.
"Friends for eternity/loyalty/honesty/We'll be together/forever/We're on top because we play to win!"
Those are the immortal lyrics of Dragon Sound, a band that joke around onstage by playing "got your nose" with their feet. Movies this strange aren't meant to be enjoyed simply because they are bad. When passion and sincerity  is matched by ineptitude, something special happens.
I watched Miami Connection at home by myself on a screener DVD. I can only imagine what it's like with a theater full of people smiling and hooting and hollering.
Miami Connection opens tomorrow at the Alamo Drafthouse Kansas City.