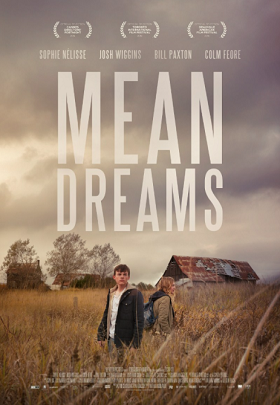 [Rating: Solid Rock Fist Up]

Director Nathan Morlando has created something that's both engaging and precious with his newest film, Mean Dreams, a coming of age tale fired in a kiln of abuse, corruption, cowardice, and malaise. A sort of spiritual cousin to Badlands, True Romance, and Moonrise Kingdom, Morlando's picture borrows pieces from each while keeping the core of the story entirely its own. And while the young leads carry Mean Dreams, the coiled, spring-loaded performance of Bill Paxton (sadly, his last) elevates the effort to a special place.
Mean Dreams doesn't waste any time getting things started, introducing its two leads to the audience, and each other, in the opening minutes. Jonas (Josh Wiggins) is releasing a captured rattlesnake behind his family's farm when he runs into his new neighbor, Casey (Sophie Nélisse). About the same age (14-15-ish), and stuck in an isolated yet undefined farm community with little to do, they develop a friendship almost instantly. Both are without siblings and neither are particularly close to their parents, so a budding romance seems inevitable. And while Jonas' father seems only casually annoyed at his unpaid farmhand's new distraction, Casey's police officer father, Wayne (Paxton), wastes little time smothering the flames of the young, burning passion.
Early on, Paxton and Nélisse do exquisite work establishing the danger that lies just under the surface of their relationship. When sober, Wayne is a kind if somewhat stern parent, yet the apprehension Casey displays around him in these innocent moments speaks volumes. After he's had a few drinks, Wayne's more dangerous side reveals itself, and bears out the frightened deference Casey displays in his company. Jonas tries to protect his new girlfriend from the wrath of her father, yet at 14 or 15 years old, and without the protection of a badge, there's little he can do.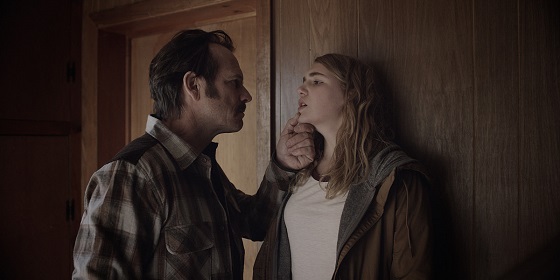 Still…little is a long way from nothing.
Seizing an opportunity in the midst of frantic desperation, Jonas steals a bag of ill-gotten drug money from Wayne, along with Wayne's daughter, and makes a run for it. As the film moves into its second act, the two kids, just barely teenagers, do their best to stay ahead of Wayne and the law while coming to grips with the life-altering decisions they're making. As Mean Dreams progresses, its strengths emerge within the interplay between Wiggins and Nélisse, whose performances equal the strong material provided in the script. There are no open declarations of love or promises of eternal commitment between the two: just the quiet understanding that all they have is each other. They express confusion, fear, hope, and even conflict, all of which goes a long way towards developing their characters as real, identifiable people.
Mean Dreams belongs to Paxton, however, and speaks to a criminally underutilized dramatic talent now lost to the world. A reliable comic foil in action classics like Aliens, True Lies, and Predator 2, Paxton never failed to impress when attacking meatier fare like A Simple Plan, Frailty, and Apollo 13. In a career that spanned nearly forty years, Paxton didn't call performances in, and if Mean Dreams is indeed his final feature role, his last performance is no different in this regard from any of the others. A master of body language, silent stares, and the zero-to-sixty jump from brave to cowardly (something of a trademark for the guy), Paxton put his unique stamp on everything he did.
Yet there's more to Mean Dreams and its successful execution than just the performances, and director Nathan Morlando deserves a great deal of the credit for this. Morlando makes some great decisions vis a vis his lighting choices, setting up most of his shots early in the picture to coincide with dusk. The long shadows he features aren't just gorgeous, they hint at a fast-approaching night that threatens to swallow up Jonas and Casey. As it concerns the mechanics of the movie, Morlando keeps things moving at a healthy clip, for at 105 minutes, the movie feels both full and fast. There isn't a wasted moment in Mean Dreams, and considering the straightforward plot, ample opportunities abounded to pad out this thing.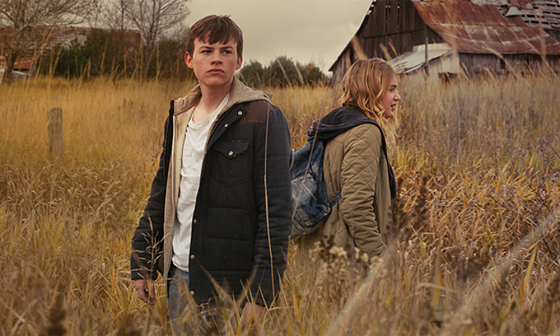 That said, there are a few missed opportunities with some of the ancillary characters, most notably with Jonas' own father, Elbert (Joe Cobden). A hard luck farmer who doesn't have any patience for his son's hopes and dreams, Elbert is just another adult in Mean Dreams who doesn't remember what it was like to be young, and full of life. When Jonas comes home after his first outing with Casey, Elbert is there to rail against his son for slacking off with his chores; later, when Wayne's abusive nature is revealed to Elbert, he's more worried about being on the bad side of a cop than the fact that his son just took a beating from the guy. Thus, it's easy to dismiss the fright Jonas must be putting his parents through when he runs away, yet it would have been infinitely more interesting had this not been the case.
Indeed, the absence of real stakes in this regard feels a bit hollow, and would have been easy enough to fix with a sympathetic father figure who adds another dimension to an already complicated dilemma. Colm Feore is also underused as the local police chief whose loyalties are hard to pin down. Neither failing is enough to derail or even destabilize a taut, interesting thriller that makes hay with some familiar themes in entirely unfamiliar situations. Opening this week, Mean Dreams is more than worth the time it takes to view, and is a fitting send-off to Bill Paxton, who never met a role he didn't crush.