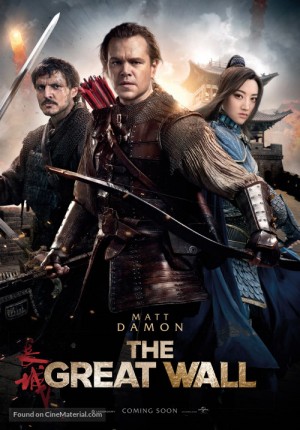 [Rating: Minor Rock Fist Up]

Fantasy clashes with history in the new action adventure from Chinese director Zhang Yimou. While the story is ridiculous and the special effects often look silly, The Great Wall at least manages to be fun. The plot never becomes too serious tone-wise making this light and forgettable action fantasy entertaining.
Matt Damon stars as William Garin, a mercenary traveling north of the Great Wall in search of black powder or gun powder. After successfully fleeing a group of bandits his group is attacked by some kind of monster. William is able to kill it, but only he and one other man survive the attack. The other man, Tovar is played by Pedro Pascal, known for his role on HBO's Game of Thrones. These two characters are by far the most entertaining pair in the film. Matt Damon brings his usual charisma that matches well with Pascal's rough sidekick.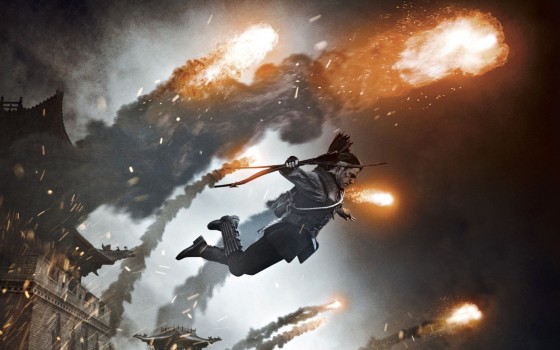 Our two mercenaries are eventually chased to the Great Wall, where they are greeted by a massive army brandishing arrows and spears. This is where they learn of the monstrous threat they are about to face. A horde of the same creatures Garin and Tovar fought off, known as the Tao Tie, are about to launch an attack on the Great Wall. While fending themselves off from the first wave, our main characters are introduced to another mercenary being held at the wall. Sir Ballard is played by Willem Dafoe, a man whose only real concern is escape.
Throughout the film, Garin struggles with either escaping with Sir Ballard and Tovar or staying to help fight. As he gets to know more about the Chinese and their struggle, the more moved he feels to help fight. It's a rushed attempt that never really feels emotionally satisfying, but it still serves to carry the story along.
One of the most interesting parts of The Great Wall are the various weapons at the army's disposal. From fireball launching catapults to cranes that drop drop spear-wielding soldiers to the ground (and often to their deaths), the creative weaponry is fascinating to see at work.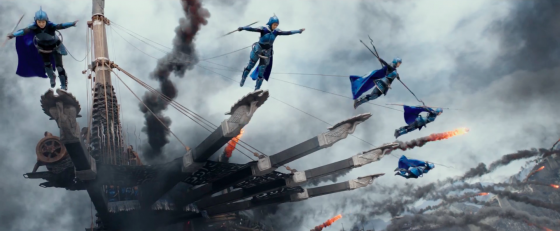 In all honesty, a historically accurate film about the creation of the Great Wall and its purpose would have been much more interesting. Still, turning it into a completely over-the-top action fantasy proves there can still be a lot of fun to be had with this iconic landmark.