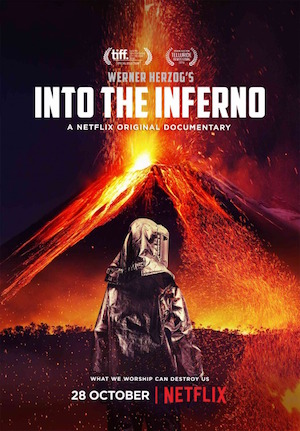 [Rating: Solid Rock Fist Up]

Filmmaker Werner Herzog and Cambridge University volcanologist Clive Oppenheimer are standing near Erebus, an active volcano in the Antarctica.
A second scientist notices Oppenheimer struggling with equipment and turns to the camera to narrate the epic scene.
"It's Man vs. Machine, Chapter 53," he says.
That was also the theme of Herzog's documentary exploration of technology and humanity from earlier this year, Lo and Behold: Reveries of the Connected World. But for his newest doc, Into the Inferno, the award-winning filmmaker returns to the theme that connects most of his work: man vs. nature.
The interloping humans here are Herzog and Oppenheimer, and Into the Inferno is as much a tribute to their friendship as it is to the awesome power of volcanoes all over the world. The like-minded pair first met during the filming of Herzog's 2007 doc Encounters at the End of the World, and there couldn't be two better tour guides.
Let's be clear: Herzog's film captures enough remarkable footage of hot magma bursts and erupting volcanoes to make any straight-up nature documentary filmmaker jealous. But Herzog's interests are cultural. The people who live in the shadows of these fire-spitting giants construct their own culture around its presence.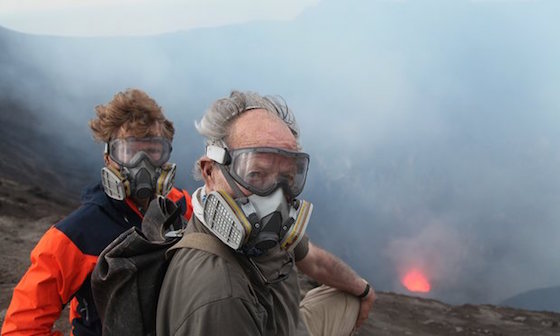 For example, Herzog talks with a community leader in the South Pacific island of Vanatu about the spirits that live in the volcano and how certain villagers will spend their afterlife in its core. As he travels from the continuously active Erta Ale volcano in Ethiopia to Indonesia's Mount Sinabung, to the watery surroundings near North Korea's inactive Mount Paektu, Herzog brings along his legendary voice-over style with its German accent and philosophical musings.
While his distinct narrative style has become a favorite target of satire, Herzog undeniably has a unique knack for finding and staging scenes for dramatic presentation, and the questions he poses are always interesting. It makes sense then, that the one meandering stretch in the movie concerns the origin of man, as fossil hunters track down the bones of Paleolithic hominids in the Ethiopian desert.
Speaking of birthplaces, Oppenheimer explains, the North Koreans believe that their people actually originate from inside Mt. Paektu. Granted a rare glimpse of this secretive dictatorship, Herzog finds an "underlying sadness and solitude" there — and makes the point that the only way to see North Korea is the way the government wants you to see it.
The same could be said about Herzog's documentaries, and Into the Inferno — currently streaming on Netflix — is all the more fascinating, as seen through his lens.
Eric's Test-O'- Time Verdict: Download
This review is part of Eric Melin's "LM Screen" column that appears in the winter 2016 edition of Lawrence Magazine.