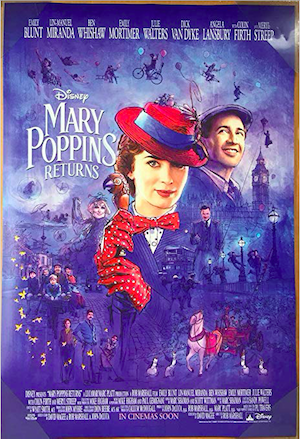 [Rating: Solid Rock Fist Up]
A fitting sequel to a bonafide Disney classic, Mary Poppins Returns balances reverence of its source material with a jaunty reimagining of P.L. Travers' most famous creation.
Emily Blunt ably slides into the title role with all the posh grace of her predecessor, and breathes new life into a film that might easily have been the quick work of industry hacks looking to make a fast buck. A hack director Rob Marshall is not, however, and he's delivered a fresh update on a daringly optimistic world at a time when Pollyanna-like sanguinity is in short supply.
Mary Poppins Returns opens in 1930s London, where the Banks children of the 1964 original have grown up and are living very adult lives. Jane Banks (Emily Mortimer) is a labor organizer while Michael (Ben Whishaw) is juggling the rigors of single fatherhood with three young children, who reside with him in his and Jane's childhood home. The audience learns that Michael lost his wife roughly a year ago, and the strain of that tragedy combined with a nationwide financial downturn finds him and his kids in a dire situation. A loan taken from the bank where Michael works has come due, and unless he can come up with the entire balance by the end of the week, the family home will be repossessed.
This leads to a clever callback to the original, setting forth a chain reaction of events that sees super-nanny Mary Poppins (Blunt) descend once again from the heavens, making a grand entrance per her custom. Upon touchdown, Mary immediately sets off to find Michael to take up her old position with the Banks family, picking up right where she left off some twenty years before. Skeptical at first, Michael and the kids warm up to the freakish magic of their nanny after a short while, and a series of song and dance numbers ensue. Like the original, hand-drawn animation mixed with live-action set pieces define the look and feel of these moments, and represent a crisp take on a classic technique.
Blunt does much of the heavy lifting throughout all of this, and carries the load with effortless aplomb, yet she also gets no small amount of assistance from Lin-Manuel Miranda, who plays Jack the lamplighter. The protégé of Bert from the original, Jack knows all about Mary Poppins and her sorcery, and is never shy about joining in on a song or adventure. Meryl Streep also steps in for a brief appearance and number, as do a few veterans of Disney's Silver Era, from whence Mary Poppins originally sprang. Colin Firth rounds out the cast as Mr. Wilkins, president of the bank in possession of the Banks family loan, and the film's chief baddie.
As far as the story, there's not much deviation from the original's roadmap, what with Mary coming to the Banks family to teach the kids a few important life lessons while inspiring the adults to rediscover their own inner-child. It would have been nice to see the franchise branch out a bit to tell a more unique story, yet it's hard to argue for a reinvention of the wheel, especially when this particular one spins with such crisp efficiency. "Trip a Little Light Fantastic" and "A Cover Is Not the Book" (which has a sly visual callback to Marshall's work in Chicago) are standouts among the new crop of numbers, and boast a visual flair that highlights the movie's outstanding choreography.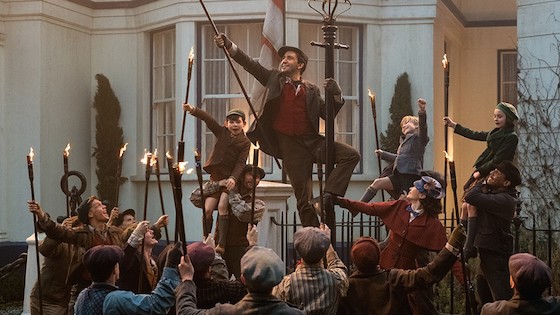 The Banks children, Annabel (Pixie Davies), John (Nathanael Saleh), and Georgie (Joel Dawson) sparkle as wide-eyed joy sponges, and integrate well into the musical numbers. Marshall is wise to keep the story grounded in their experiences with Mary, as they reflect the boundless joy that's able to grow in this magical incubator. These youngsters never ask why Mary Poppins doesn't just use her magic to conjure up a sack full of house-saving money, and so the audience won't either.
Light, refreshing, optimistic, and altogether lovely, Mary Poppins Returns is everything a fan of the original could hope for. Blunt and Miranda give it their all in what amounts to a lovingly rendered sequel/soft reboot of a franchise that has enchanted multiple generations of children over the last fifty-plus years. Catchy new songs, familiar animation, and a stacked cast make this more than just an I.P. cash grab, and does justice to the world Julie Andrews, P.L. Travers, and Walt Disney created. The boundless optimism and good-natured spirit of this world make it the perfect medicine for the moment: with no need of a spoonful of sugar to help it go down.