The debut film from Sean Durkin, a newcomer and the recent winner of the special jury prize for directing at the 2011 Sundance Film Festival, has been trickling out in theaters across the country.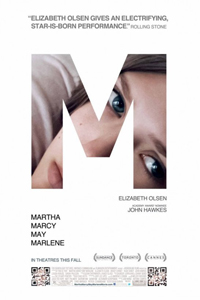 Martha Marcy May Marlene explores the emotional and psychological state a of a young woman, Martha (Elizabeth Olsen), who escapes from an oppressive cult led by the charismatic Patrick (John Hawkes).
Martha's older sister Lucy (Sarah Paulson) opens her home to the troubled Martha, but Lucy soon realizes that the psychological injuries to her younger sister may be too severe. Martha withdraws from both the world of her sister and the ideology of her former captors.
Throughout the film Durkin employs an incredibly shallow depth of field, in an attempt to accentuate the psychological claustrophobia that Martha feels. Though this technique does have this affect very occasionally, more often it serves to distance the viewer from the main character. The huge fuzzy focused landscapes that surround sharp extreme close ups detach the viewer from the emotional content, as if one we're to watch the scene through a pinhole camera.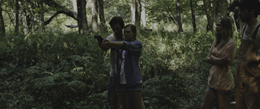 When the more aggressive and disturbing scenes in Martha Marcy May Marlene occur in full focus, they don't serve to draw us in and make us sympathetic. Instead, it has the troubling awkwardness of watching a stranger on a busy street get hurt. It feels intrusive and unwelcomed in a way unintended by Durkin.
The final shot of Martha Marcy May Marlene is perhaps the most effective of the entire film. It's just a medium shot with a reasonable depth of field, but its simplicity allows the viewer into the physical and emotional space of the character. Though successful, this single moment is not enough to make the rest of the film worthwhile.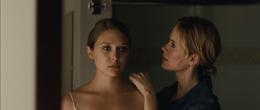 Which is a shame, because there are some solid performances from John Hawkes and Sarah Paulson, and Elizabeth Olsen creates a surprisingly rich and well-developed character in her portrayal of Martha. Unfortunately, these small islands of potential are wasted amidst a sea of shamefully mediocre supporting players and direction that was consumed with being clever instead of good.
Martha Marcy May Marlene is the kind of film that gives independent films a bad name. It tries to explore fascinating and dangerous subject matter, but in a way that is too consumed with not being mainstream.
If Durkin had been more concerned with drawing us in by showcasing the compelling characters (Elizabeth Olsen first among them) and less so with overly apparent and not-so-interesting camera work, he may have come up with a watchable and disturbing drama.