Michael Mann's "Public Enemies" is a lovingly crafted exercise by the veteran filmmaker, whose films have covered the similarities between criminals and lawmen many times before (See "Manhunter" and "Heat"). Starring Johnny Depp as infamous Depression-era bank robber John Dillinger and Christian Bale as dogged FBI agent Melvin Purvis, the film gives the audience an impression of what it must have been like to be there more than any other movie that has covered this well-worn territory before.
In that respect, "Public Enemies" recalls Terrence Malick's haunting 2005 film "The New World," set in 1607 Jamestown. The two movies are less concerned with suspense and plot mechanics than they are with realizing an experience, even if the two directors' narrative strategies are completely different. Malick created a dreamlike portrait of an untouched land and life that moves at its own slow pace, while Mann prefers to put the viewer within close proximity of Dillinger and his gang during their intense 13-month crime spree. Both films reach their goals, sometimes with thrilling results.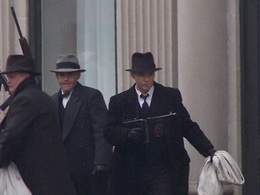 Mann's cinema vérité style is achieved with lots of handheld camera shots and the fact that everything—like his last two movies, "Miami Vice" and "Collateral"—is shot on digital HD. On one hand, video is as unglamorous as can be, exposing blotchy skin tones and letting in harsh light. Since Mann was going for a heightened sense of realism, this would make sense. Digital works fine for a contemporary setting. However, there were several times in "Public Enemies" where I was pulled right out of the story. The simple fact that I am not used to seeing a period piece shot with a camera that at times is very self-aware made me forget that I was watching Dillinger and Purvis , and instead I saw Depp and Bale playing dress-up.
It's a strange feeling to be sure, and it didn't last—mostly because everything else in the movie kept me rooted. Neither Depp nor Bale are glamorized, although Dillinger's fantastical public legend certainly could call for it (and the mere fact that he is played by Johnny Depp does its own glamorizing). During the Depression, Dillinger's exploits were plastered on the front page seemingly every day. Dillinger's robberies and prison escapes combined with people's anger at the banks made him a folk hero. That the authorities couldn't catch him or keep him in jail made it even more exciting.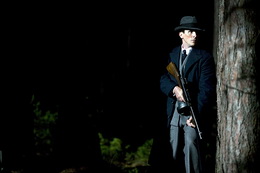 Although Mann gives us few traces of the Depression onscreen, and hardly delves into the cultural significance of Dillinger, he definitely gives us thrilling robberies and shootouts. It's almost as if the filmmaker expects us to know something about the era going in so he can concentrate on the business at hand.
Chaos explodes over and over again in "Public Enemies" as cars, buildings, and windows are pummeled by a constant barrage of Tommy-gun bullets. Within that bedlam, Dillinger is always the calm, cool, and collected of the bunch. This is one film where I can't complain about not being able to see the choreographed action as well as I want to—that's the point.
It's fascinating to see the now-powerful FBI as an ill-equipped, outmatched group of newbies. Purvis, egged on by never-ending pressure from director J. Edgar Hoover (Billy Crudup) and a perceived national pandemic of crime, eventually moves from Hoover's clean-cut image of the force to hiring older seasoned veterans. At one point, in an eerie evocation of Abu Ghraib, his orders are for prisoners—like Dillinger's girlfriend Billie Frechette (Marion Cotillard)—to be interrogated vigorously.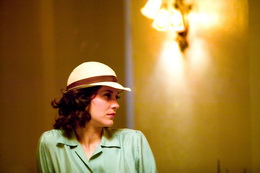 As much time as we spend with Dillinger and his gang, we don't really get to know any of them. We get a sense of Dilinger's loyalty to them, though, and—like James Caan in Mann's "Thief"—we sympathize with Dillinger.
Sometimes the movie is fairly inert in its sense of drama (an inevitable result of Mann's vérité choice perhaps?), but the last 30 minutes of "Public Enemies" develops a strong sense of foreboding that is missing n the rest of the movie. Buoyed by the fact that we know this won't end well for the bank robber, the film meticulously re-enacts the events leading up to Dillinger's last moments.
Part of what gives the finale its power is its historical accuracy, but I have to be honest—I got goosebumps during a scene towards the end of the movie which I assume is some sort of metaphorical fantasy as well. You see, trading off realistic presentation for artistic license is not always a bad thing.