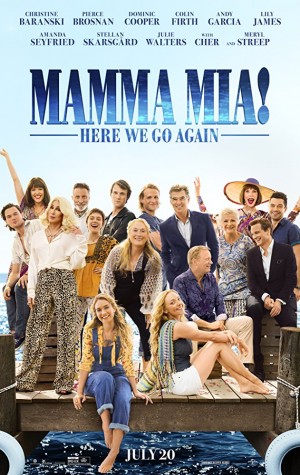 [Rating: Minor Rock Fist Down] 

Things have changed in the last 10 years for movie musicals. Ten years ago at the Academy Awards, Hugh Jackman yelled out "THE MUSICAL IS BACK" and an entire song and dance number with Beyonce followed to prove his point that sometimes, people want to go to a movie musical and sometimes these movies are successful. Coming off the success of its predecessor, Mamma Mia!, Mamma Mia! Here We Go Again, featuring more classic songs from ABBA, will most likely be an acceptable pass for those who are fans of the first movie. Unfortunately, this unnecessary sequel (a phrase too often thrown around in our lexicon of film phrases), does nothing more than make you tap your feet too often and left myself feeling not an ounce of joy in my heart.
So, I must admit that I wasn't a huge fan of Mamma Mia! in the first place. I went into that movie really for Meryl Streep and the fact it was a musical, but came out obviously struck that the plot was mediocre and it was too campy for its own good. It's now settled a bit and is a charming musical, if nothing else. This new movie, now directed by Ol Parker, takes place a year after the first, where we find Sophie (Amanda Seyfried) now running her mother Donna's (Meryl Streep) villa on a Greek Isle. It might seem obvious as to what has happened to Donna since last we saw her but I'll let the viewer decide that themselves. Just watch the trailer!
In any case, Sophie is about to hold a grand re-opening of the villa hotel after doing some remodeling. Enter in the usual suspects, family friends Tanya (Christine Baranski) and Rosie (Julie Walters), lover Sky (Dominic Cooper) and dads Sam (Pierce Brosnan), Bill (Stellan Skarsgard) and Harry (Colin Firth). Plus two new characters: architect Fernando (Andy Garcia) and estranged grandmother Ruby (The one and only Cher). This entire plot line however, is not at the center of the film.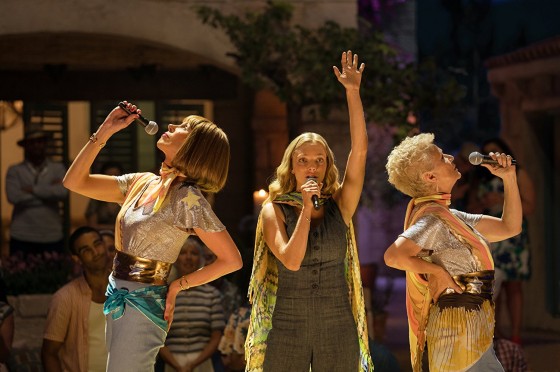 The real meaty story is that of young Donna (Lily James) and how she sets off after college to explore the world and herself. Along the way she finds romance both with men Sam (Jeremy Irvine), Bill (Josh Dylan) and Harry (Hugh Skinner) and the beautiful Greek isle where she wants to stay. This island means the world to her. It's an escapist paradise that she has been wanting her entire life and now this is her chance. We learn Donna's story and learn how the many heartbreaks in her life only made her strive for success and eventually helped lead her to fix up and own the hotel on the isle and raise her daughter Sophie, by herself. Of course, much of this is followed with song after song.
I think my main problem with this movie as a whole, is the storytelling technique. The editing of present and past feels disjointed and gets tiresome after a while. If this movie were to have stayed in the past and then shifted to the present near the end, it would have helped slightly get a better connection to Donna. There's scenes in present day that are thrown on the table and suddenly are forgotten when everybody gets to the island.
Also, something that didn't sit well with me at all is the overkill of songs. Mamma Mia! I dare say, felt like the stage play it was adapted from. It flowed well from story to songs and this movie doesn't duplicate that. Especially the flashback scenes, songs are used so often in this movie, it should have just been sung through. There's a weird rendition of "Waterloo" that for the life of me, I still cannot understand in what context it just HAD to have been sung. Recycling songs are going to be obvious in a jukebox musical because they are fan favorites, but I can do without the reprises of "Dancing Queen" now and then! We audiences members know this is a musical, the filmmakers do not need to remind us every second.
One thing many musicals have I feel, is a heart. Here We Go Again lacked some of that. Sure, Cher comes into the movie and changes a lot of that (she really kills it you guys), but without Meryl Streep in this as much as she should be, as a loving mother watching over her child growing up, that love and tenderness doesn't come to full form. There's a beautiful moment where Sophie sings for her mother, "I've Been Waiting for You" with the scene being juxtaposed with her birth, but that's the only loving moment this movie seems to have. A story about mothers and motherhood, but never comes to full bloom.
We didn't need a sequel to Mamma Mia! but we got it anyway. I never did have a lot of hopes that this would rival its predecessor, but it's cute enough for its loyal fans. Mamma Mia! Here We Go Again, is a celebration of life, death, love and dreams, but struggles in the end to find the sweet spot to make it as successful as it could be. Instead, it blends two similar, yet different stories into a soupy, disjointed concoction.
And again, to make the point known: If you must go, at least there's Cher.