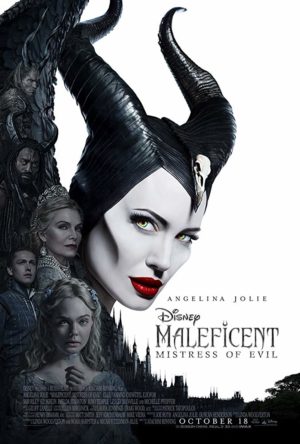 [Rating: Minor Rock Fist Down]

In the past year, Disney has become even more of a cultural powerhouse across the planet than they ever have before. Putting out remakes of old classics, acquiring Fox Studios, creating their own streaming platform, what will stop them? In yet another venture to tap into the nostalgia of whoever the target audience is, Maleficent: Mistress of Evil, a sequel to 2014s Maleficent is yet another live action remake of a classic tale (Sleeping Beauty) and one that is without a doubt, very tiresome and unnecessary.
Directed by Joachim Ronning who last directed the FIFTH Pirates of the Caribbean outing, directs this film that really pushes its main star Angelina Jolie to the background, and focuses on a plot that feels all too familiar from other franchises.
Years after the events of the first film, Princess Aurora (Elle Fanning) is awake and Queen of the Moors. Still in love with Prince Phillip (Harris Dickinson), he proposes marriage, but it is Maleficent, Aurora's Godmother who has the final say in things. When she agrees at least to meet Phillip's parents, King John (Robert Lindsay) and Queen Ingrith (Michelle Pfeiffer), things go well at first. When Ingrith angers Maleficent for wanting to be a "real mother" to Aurora, Maleficent flees, but not before King John mysteriously succumbs to what he thinks is a curse from Maleficent. Fleeing, she is struck down by silver from Ingrith's right-hand girl, but saved by what appears to be another winged creature. Soon, while Maleficent recovers on an island with her own kind, Ingrith plans to destroy the Moors and all the fairy-like creatures that live there for her own personal gain and to complete her tragic backstory. It is Disney's version of Cersei Lannister vs. Daenerys Targaryen, but a lot more colorful.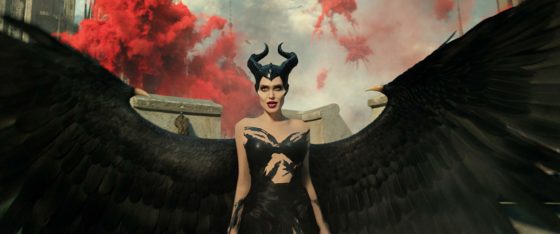 The worst aspect of all of this is how familiar, and how overlong it feels. Maleficent clocks in at about 97 minutes, while this one goes for the two-hour package. The battle sequences feel familiar as stated, like a happier Game of Thrones parody or even, dare I say, Shrek 2. There is even a dinner table sequence literally ripped from Shrek 2, that I feel Disney should have at least noticed!
Even the scenes of Maleficent meeting her kind feel so underdeveloped as a deeper and personal backstory, to whatever is going on with Aurora, who is the most boring character in the lot. It's Pfeiffer's performance in this that sells the movie because she's given so much more juicy material to work with, even alongside Angelina doing her own thing. The movie also checks off some typical fantasy aspects: visuals and costumes work well enough. The side characters like fairies Knotgrass, Thistlewit and Flittle (Imelda Staunton, Juno Temple and Lesley Manville), a new sinister character played by Warwick Davis and a fellow Maleficent-like creature Conall also (Chiwetel Ejiofor) bring some added entertainment. 
Overall, this Disney live-action universe that we are living through can be fun, but a movie like Maleficent: Mistress of Evil is so unneeded in this world and only feels like another way to make some money at the Disney bank. It's familiar territory and already was a story that isn't even that interesting enough to warrant a sequel. Underdeveloped characters abound in this sequel that will most likely come and go in the wind of Maleficent's wings.