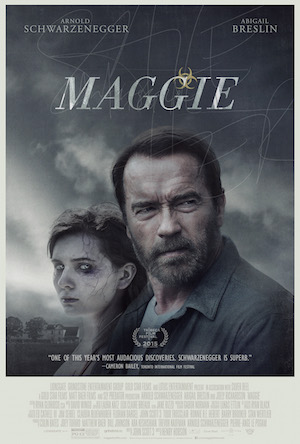 Rating: Solid Rock Fist Up
One of the best things about reviewing movies is being surprised. Critics burn thousands of words when their expectations are busted or exceeded. Thankfully Maggie is one of the latter. A zombie movie that features Arnold Schwarzenegger sounds like a recipe for an intentionally corny B Movie. But thanks to a script by John Scott 3 and direction from Henry Hobson, Maggie ends up being efficient, smart and actually about something.
Abigail Breslin plays the titular character, a teenage girl in the post-apocalypse who ends up getting bitten and contracting the virus that has caused the world to go sideways. In this version of the zombie apocalypse, the virus takes a long time to fully gestate, and so she is forced to deal with her own mortality, rapidly deteriorating health and leaving behind the group of people in her life that mean the most.
Breslin's performance is thoughtful and convincing, and Hobson wisely uses close shots to convey her internal struggle and her varying emotions as she comes to grips to what's happening to her.  Hobson also gets a great performance out of Schwarzenegger, using him sparingly and letting him be strong and internalized.
The metaphor is an obvious one in Maggie, but it's still a good one. While Breslin's character is struggling with her own mortality, her parents are forced to watch her struggle with a disease that has no cure. Maggie is about helplessly watching a loved one struggle with addiction or disease with dignity.
Scott's script makes sure every character's choices have consequences, no matter how heartbreaking they might be and Hobson directs the films climax with a steady hand, not going too far into the overdramatic. The conclusion is heartbreaking and respectful at the same time.
If you're looking for a bit of counter-programming to the summer's bombast, you'll be hard-pressed to find a better alternative right now.