Tangerine, now showing at the Tivoli in Kansas City, is a sleazy, comical adventure story about a spurned transsexual prostitute out for revenge after she's released from the county jail.
At a table in a dingy donut store where golden California sunlight spills through the windows, trans prostitute Sin-Dee Rella (Kitana Kiki Rodriguez) finds out from her best friend Alexandra (Mya Taylor) that her pimp boyfriend Chester (James Ransone) started seeing a another women while she was serving a 28 day sentence. We are shown the lurid, garishly neon-colored sleaze-noir underworld of Tangerine when Sin-Dee searches the sun-drenched sidewalks of seedy Los Angeles and its strip malls, motels, cabs, fast food joints, bail bond businesses, in search of Chester and his new girl.
The film has a hypnotic nighttime aesthetic made possible by ugly fluorescent lighting, glowing street lights, and the golden-orange Magic Hour sun that seems to constantly illuminate the city's concrete surfaces. Tangerine is a kind of Queer Noir drenched in tacky golden light and the eerie glow given off by neon signs. Perhaps inadvertently, the film updates the film noir style with themes of love and heartbreak that serve as fuel for its revenge fantasy.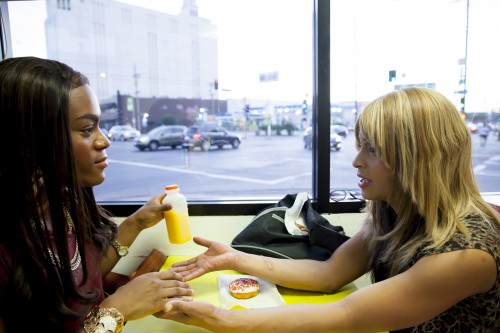 The story is centered around the friendship between Sin-Dee and Alexandra, whose tight bond is established in the first scene of Tangerine and is nearly broken later on, before it is touchingly reconciled during the very last moment of the film. Her status as a prostitute to Chester's pimp doesn't dissuade her from feeling betrayed when she finds out that he's slept with his other tricks.
Sin-Dee is hardened by jail and the streets, but she has the naivete of a softer person when her heart is broken. Underneath the film's lurid nighttime visual style lies a story about a girl craving loyalty from the people she trusts.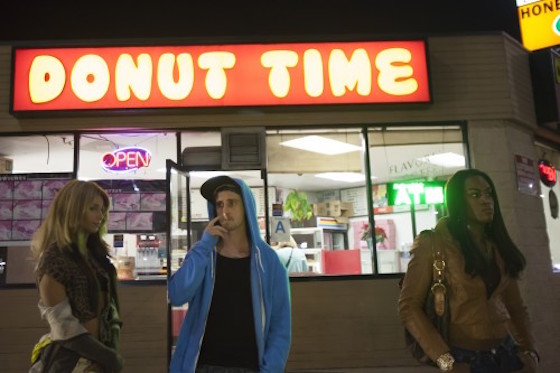 Rodriguez and Taylor both have a natural chemistry and charisma on screen that is easily felt because their performances are derived from their real experiences as friends and as trans women. Rather than using the film's realist moments to underline the poverty and dismal lives of the street people who populate the film, director Sean S. Baker lets us see and hear the fast rhythms of Sin-Dee's ways of walking and talking.
We experience her full sense of confidence and her rage against the woman who's slept with her pimp. Almost entirely on foot, she glides through the streets of L.A. with a sense of pissed-off purpose. She has the crazed determination of Gena Rowlands in Gloria. She is messy, profane, violent, and authentic, like one of Rainer Fassbinder's actresses, or like some of the people who appeared in early John Waters movies.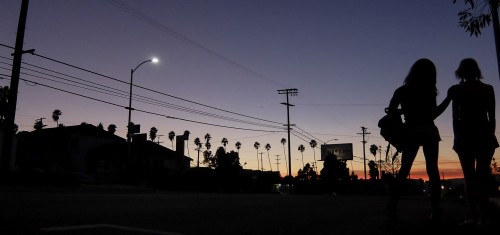 The fluid, hypnotic visual style is possible through Baker's decision to shoot Tangerine using iPhone cameras with anamorphic lenses attached to them. Baker has a distinct visual style, in which seedy Los Angeles becomes a character  in the film. iPhone cameras pick up a limited amount of detail, but Baker has successfully captured the textures and nuances of the world he films, partly by drawing out its strangeness, its griminess, and the real personalities of its actors. Tangerine is washed out in golden sunlight that looks simultaneously beautiful and gaudy.
The unnatural lighting of the city is ghostly, casting everything in a glow that renders the world into something impossibly distant and strange. When the sun goes down, the film extends the nocturnal, glowing, Los Angeles-based neo-noir styles of films like Drive and Nightcrawler.  Unlike those films, Tangerine is impelled by its main character's deeply felt need for love. All characters, prostitutes, pimps, street people, are given a kind of decency, moral relativity and empathy that more traditional noirs have given to anti-heroes, underworld denizens and others who survive on the margins. Tangerine is expressed with a neo noir style, but loyalty and friendship are its themes.