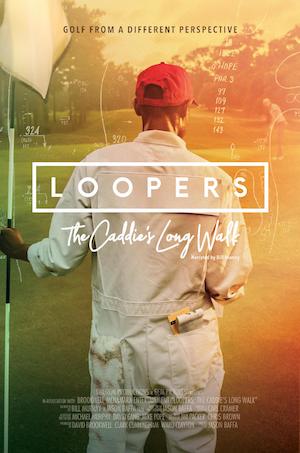 [Rating: Minor Rock Fist Up]
A breezy little documentary with modest ambitions and a surplus of reverence for its subject, Loopers: The Caddie's Long Walk is an investigation of golf's most prominent sidekicks. Director Jason Baffa is able to peel through several centuries of the sport's history in 78 short minutes to assemble a history of the caddie, making a case for it as an indispensable component of golf's history. And while it doesn't dig all that deep thematically, it covers enough to reliably claim a comprehensive picture of a person that is a coach, confidant, and pack mule all in one.
Narrator Bill Murray guides the audience of Loopers through the early days of golf's history, when it transformed from a 19th century amateur endeavor into an activity from which one could make a living. Caddies were originally the makers of golf clubs or the groundskeepers of the courses where men played, giving them unique insight into the instruments of the game as well as its grounds. Throughout Loopers, talking heads explain the value of a good caddie, and how they inform a player's decisions on where to shoot, what club to use, and how a particular course runs in terms of speed or slope: qualities that have changed little over the years.
Loopers isn't short of respectable talent when moving through this exposition, either. World-class golfers with buckets of Majors championships between them like Tom Watson, Lee Trevino, Ben Crenshaw, Nick Faldo, and Fuzzy Zoeller all weigh in on the importance of an experienced, well-matched caddie. There's no shortage of caddie testimonials, either, perhaps the most notable of which comes from Steve Williams, Tiger Woods' longtime bag man. They all make compelling cases about the importance of an experienced, level-headed golf confidant, and how different kinds of courses require different strategies and approaches.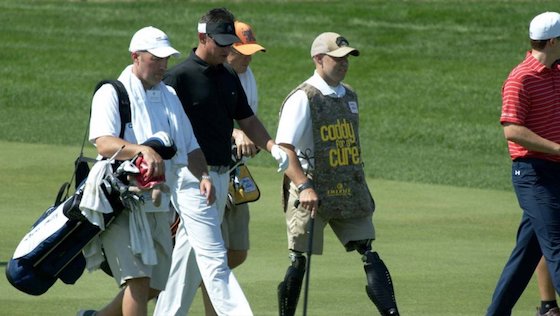 And while it doesn't dig too deeply into the subject, there is some time allotted to the underlying racism stitched into the fabric of the sport, specifically when Augusta is featured. That club notably did not permit African-American members until 1990, relegating them instead to caddies (who were known as some of the very best in the world). It's a dark stain on not just the course, but the game as well, which has never been known for its inclusionary gestures.
Baffa's decision not to side-step this topic is one of the stronger points of the documentary, as is his exploration of how a change in the sport's caddie culture played into the diminishment of African-American caddies in the latter half of the 20th century. Starting in the 1970s, pro golfers began to insist on providing their own caddies, which was a challenge to what some viewed as the institutionalized racism inherent in a sport where African-Americans only participated as bag men. This was no small change at Augusta, where caddies were provided by the club as a rule, and while it signaled a larger sports shift that has led to the player empowerment era so prevalent today, it also meant that African-American caddies who relied upon the bigger Augusta purses to get them through the rest of the year no longer had this guaranteed income.
It's an interesting dilemma, and Loopers takes the time to explore the paradox of golf moving out of an era where African-Americans were allowed entry only by way of caddie work while at the same time taking away the main source of income for these men. It's not just a disparity in race equality that is addressed, either, for Loopers also touches on the innate class conflict of golf as an organized sport. Any rich kid can grow up playing as much as they want on courses where wealthy families are members, while those without such privileges have to scrounge to save enough to play on high-quality greens. For those without means, caddie work is as close to golf's primetime spotlight as they will ever come, and it's something that players like Greg Puga (featured prominently in Loopers), one of the sport's most famous underdogs, attests to.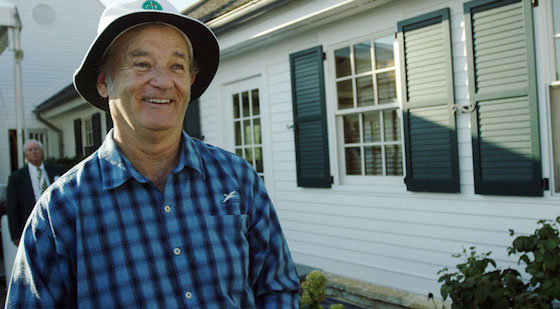 Structurally, Loopers isn't doing anything all that novel, using its rotating bench of golfers, caddies, and course managers to walk the audience through the history of the sport and the caddie's role in it. There isn't any of the slick animation cut scenes so prevalent in documentaries today, but rather an abundance of well-shot footage of the sport's most beautiful courses matched with archival interviews, news clips, and expert testimonials. And while this means that Loopers isn't bringing anything new to the documentary conversation, format-wise, it works here as a statement of deference to that which makes the sport and the caddie's work possible: the greens.
Stocked with interesting history, reliable experts, and probing looks into all aspects (positive and negative) of both golf and caddie work, Loopers does about as well as any documentary could on the subject. At a concise 78 minutes, the effort packs a lot in a relatively small package, entertaining as well as educating. Though not a hole in one, per se, as far as documentaries go, it makes an easy par.