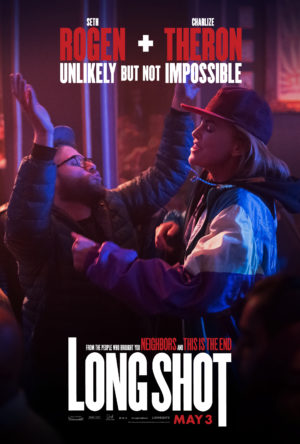 [Rating: Solid Rock Fist up]
I was worried Long Shot would make me want to die. Charlize Theron – my fashion spirit animal – playing a presidential contender? Yes. I'm in. I do. Romantic comedy doing a gender twist on Pretty Woman? Hell to the yes. Here for it. Also starring Seth Rogen?
Insert record scratch.
That guy from Knocked Up and This Is The End is going to play against the perfect Charlize Theron in a movie fraught with delicate gender politics?
I had concerns.
But, I will say, thanks largely to a well-handled script by Dan Sterling (who produced and wrote episodes of The Office, Girls and The Sarah Silverman Program) and Liz Hannah (The Post), director Jonathan Levine (50/50, Warm Bodies) and cast mostly pull off a funny role reversal.
Rogen plays Fred Flarsky, a journalist who leaves his job to preserve his ethics and finds himself as a speech writer for Charlotte Field – secretary of state, presidential hopeful, and former crush.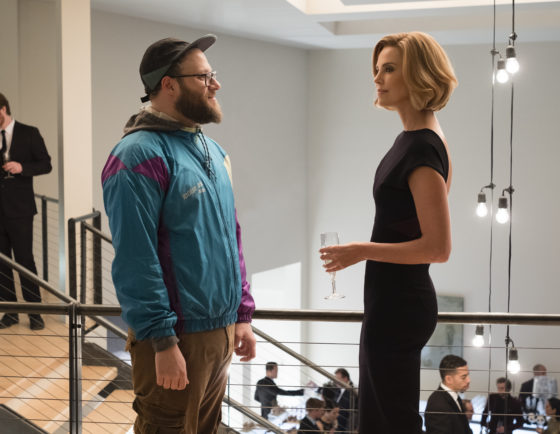 Landing a reverse Pygmalion is tricky. Traditionally, the female goes through a rags to riches, gutter to glamour transformation – taking off the glasses, strapping on the heels, and occasionally hitting the gym. Fred doesn't make much effort to elevate his aesthetic to be on par with Theron; (I mean, what would be the point?) he just shaves his neck.
But is that kind of the point? To grab a man's attention, you've got to bring the hot and force a head swivel. To grab a woman's – it's traditionally a bit less visual. In his new role as speech writer, Fred has to get to know his subject – and that creates a natural new relationship energy buzz as they get to know each other.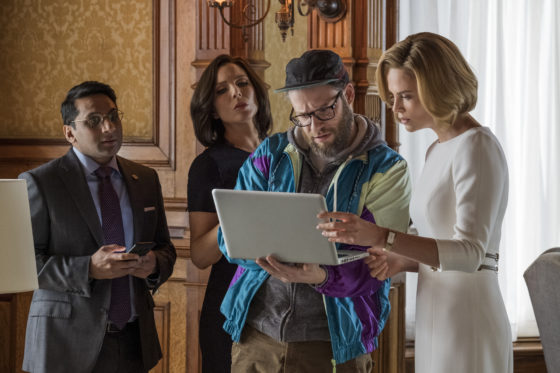 The dialogue and the supporting cast is excellent. June Diane Raphael (Grace and Frankie) is frosty and acerbic as Charlotte's concerned assistant. O'Shea Jackson Jr. is the best friend we all want – generous, straightforward, and hilarious. He and Rogen have the best chemistry of the movie.
The references to the current political climate allow for some good-natured ribbing. Bob Odenkirk as a TV-star-turned-President is shallow and dumb. Alexander Skarsgård parodies Justin Trudeau with gentle smarminess and genuine unattractiveness (the makeup team needs to think about their life choices for doing that to him). Andy Serkis is a bullying, wealthy media owner determined to get his way.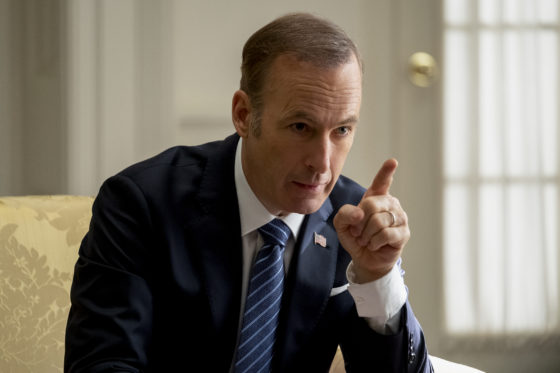 There are issues. Theron and Rogen have absolutely no heat. Their acting and energy is on point, but the sexual chemistry is non-existent, despite a few graphic, built-for-laughs sex scenes.
The physical gags are cruder than they need to be, and it brings the movie down a notch. But the thing that was both totally on point and really bothered me was Charlotte's very perfect character.
To pull this movie off the woman has to be strong, gorgeous, ethical and driven. The dude really doesn't – he just needs to be likable. But in the original Pygmalion, the woman has to be strong, gorgeous, ethical and driven, and the dude really doesn't – he just needs to be rich. So how much of a switch is this really?
I'm still working through my thoughts on the resolution, but ultimately it doesn't matter. The movie's really pretty funny. The writers took great care with the approach, and it works. And while the resolution feels clunky, the last three minutes of the movie made up for it.