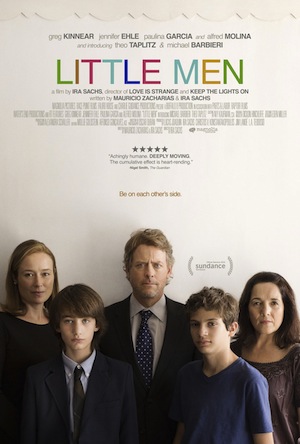 The slow, steady process of urban gentrification is made up of a plethora of small tragedies, a sense that director Ira Sachs draws on in his latest film, Little Men. It's not a wildly dramatic movie, but it is a very authentic-feeling movie, one that takes the subject matter and spins it into its own little slice of city drama.
In the film, the middle-class Jardine family move into a Brooklyn building they've inherited. Dad Brian (Greg Kinnear) and his wife Kathy (Jennifer Ehle) are sorting out the generous leasing agreement Brian's late father had with a long-time tenant, dress shop owner Leonor (Paulina Garcia). The couple's teenage son Jake (Theo Taplitz) connects immediately with Leonor's son Tony (newcomer Michael Barbieri–a miniature Al Pacino). The two new friends and their parents coexist in harmony, until Brian raises the rent, and tensions between all the characters boil over.
The relationship between the boys is sweet, combining the self-exploration of early teenage years with the excitement of summer in the city. They rollerblade in the park, sleep over and hang out at neighborhood cookouts. They share dreams–Tony wants to be an actor, Jake an artist.
But the differences in class between the two families, and the privileges that come along, become painfully apparent as they start to fight with each other. Sachs communicates this in ways that are subtle and small, but reflect a recognizable awkwardness. Kathy visits Leonor and tries on a dress, but neither woman is sure how to behave around each other. Should Leonor offer her landlord a discount? Should Kathy accept it? Jake and Tony want to attend the same fine arts high school. Jake has advantages that make it easy for him to get in, but Tony, who doesn't, is clearly the one who wants it more.
The situation isn't fair, and the toll it takes on an otherwise beautiful friendship is heartbreaking to watch. But, as Sachs reminds us with his realistic characters and stripped-down shooting style and dialogue, it is something that happens all the time. Little Men is a poignant reminder that the changes in the places we live often come at a cost to someone else. For every boutique that opens in an old city neighborhood, there's a Leonor (and a Tony) who's getting pushed out.