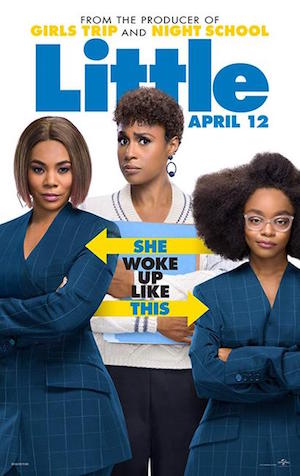 [Rating: Minor Rock Fist Up]

Whether it's Big or 13 Going On 30, waking up in a different-aged body has been a common trope in movies for years.
The new comedy Little puts a new spin on it when successful tech mogul Jordan Sanders (Regina Hall) is cursed by a little girl she insults and wakes up in her middle-school aged body (Black-ish's Marsai Martin). With the assistance of her mousy assistant April (Issa Rae), she navigates humility and bullying to create a cute and funny comedy.
Is it Big in reverse? Not really.
Regina Hall is hilarious as a tyrant of a boss, with the mouth of Gordon Ramsay and no respect for anyone. Her adult Jordan is hell on wheels and the only one that seems to get her is her aspiring boyfriend (Luke James). I wanted more of her on the screen!
The star dynamic occurs in every scene with young Martin and Issa Rae. Martin embodies Regina Hall's Jordan as if she stepped into her Manolo Blahniks. She is the standout star in this movie. Rae brings her comedic timing to the big screen, reminiscent of her Insecure character. Despite the laughs, I hope she doesn't get type-casted into these roles only because she has so much more to offer.
In addition to the three main actors, the children turn in refreshing performances as well. The three kids who befriend young Jordan are adorable, and hold their own in their scenes.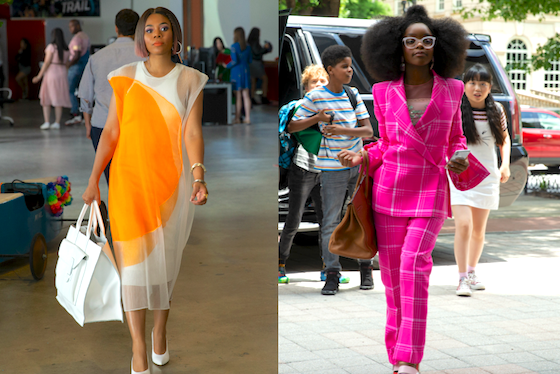 The script by Tracy Oliver (Girls Trip) and director Tina Gordon has some jokes that fall flat (and one transphobic joke that shouldn't be written for laughs in 2019) but overall it's enjoyable and keeps the story moving. Based on a concept that Marsai herself pitched (she's also an executive producer), there were opportunities to flesh out more jokes from the body transformation concept while keeping it PG-13 for general audiences. Still, we are treated to some true laugh-out-loud comedic moments.
With a great soundtrack to back it, Little tells a charming, funny tale that we may have seen before, but not like this. It's a remix full of laughs and thankfully all of them were not shown in the trailers. It also has underlying themes of female empowerment and overcoming bullying that makes it endearing.
See it for Marsai Martin and keep watching as her star continues to rise.