The youthful exuberance and utter disdain for the realities that come with age are markers of our college years, but as Mike Nichols showed us some forty years ago, graduation can be a harsh and confusing awakening.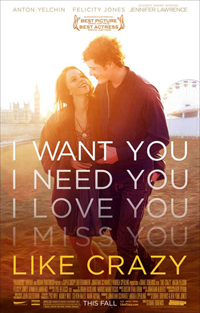 So it is in Like Crazy from director Drake Doremus, which follows Jacob (Anton Yelchin) and Anna (Felicity Jones) as they traverse the wiles of international dating.
Anna, a student from Britain studying in Los Angeles, overstays her visa after graduation, in order to spend one more summer with boyfriend, Jacob. When Anna tries to return to the States, she discovers that her love driven visa violation bars her from reentering the U.S.
When it's at it best, Like Crazy explores the awkward, impulsive and wonderful parts of being in a youthful relationship. Early in the story, Jacob and Anna are out on their first date. They don't know each other yet and there is palpable trepidation to their conversation.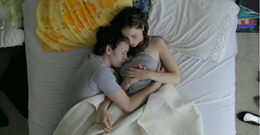 Drake Doremus frames them in profile and has each character on opposite sides of a large out-of-focus column. As they warm to each other, Doremus begins framing the couple together and opens them up to the viewer. The effect works like a charm, and as this young couple gets to know each other, we get to know them.
At times Drake Doremus becomes overly clever. There are a number of shots and transitions that exist for little more than the whimsy of their creator. During one of their early dates Anna and Jacob are centered in single shots as they drive go-carts, a tip of the hat to Wes Anderson, perhaps.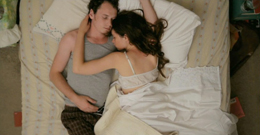 Doremus also employs some all too Garden Stateish transitions, from the overhead of the bed that Anna and Jacob stay in that fateful summer – each day a still of the two sleeping in slightly different positions – to the time lapse of Anna in a London airport as she waits for Jacob to return from the States.
Luckily this young director also shows a strong affinity for Mike Nichols as well. Homage to Closer and The Graduate help turmoil rupture the treacle. College relationships don't always last even when we desperately want them to, and who's to say that if they did "work out" that it would be for the best.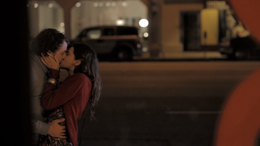 As Anna and Jacob struggle with the reality of their separation, both indulge in emotional digressions with other partners. We wonder whether the on again and off again struggle to stay together is worth it.
Drake Doremus almost leaves that question completely unanswered. Almost. Unlike Nichols and his slow dolly out on Ben and Elaine as they sit at the back of the bus, Drake Doremus seems reluctant to force such treacherous emotional ambiguity upon his characters.
A perfectly enjoyable film, Like Crazy could have been truly special had this young director not allowed a few moments of cleverness to distract from the whole and showed more willingness to let his characters twist in the wind.