Scene-Stealers reader Aaron Hale was nice enough to send in his capsule review of "Let the Right One In" (#4 on my Top 10 Movies of 2008), so let's we'll start with his comments before I chime in and we see what you all have to say. Here's Aaron:
This is the year of vampires, starting with HBO's "True Blood" to the insanely popular "Twilight," to and now Sweden's "Let The Right One In." I haven't seen "Twilight," but I hated "True Blood" enough after the first episode to know that the whole season would suck (pun intended). "Let The Right One In" is a different story.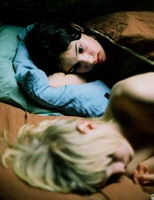 Oskar (Kare Hedebrant) is a 12-year-old awkward kid who lives with his divorced mom in a snowy working-class suburb of Stockholm in 1980. The other kids at his school beat him up all the time and Oskar has fantasies of violent revenge. Then Eli (Lina Leandersson), a pale little-girl vampire who smells funny and only comes out at night, moves into the apartment next door, and she and Oskar hit it off. It's good to have a bloodthirsty vampire on your side when the kids at school won't leave you alone.
I really enjoyed this movie. It was cleverly written, beautifully shot, and perfectly cast and Hoyte van Hoytema's cinematography is visually stunning. I even felt cold watching the movie. Director Tomas Alfredson nails Oskar's innocence and morbid fantasies perfectly, while showing a sad, little boy who longs for understanding from anyone, and finds it in a violent, lonely vampire.
At first I found myself wanting Oskar to run from Eli, but I soon fell in love with both of the children and wanted Oskar to get his revenge. There are lots of gory scenes and side characters who add to the film's realness, and lead up to the final scene, which has been described as "one of the best endings in the history of cinema." See this movie. It's my projected Oscar winner for Best Foreign Film of 2008.
Me again: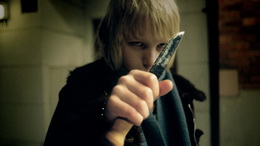 What struck me about "Let the Right One In" was its naturalism. Alfredson approaches this supernatural story as if there was nothing supernatural about it at all. Like the weather, it is cold and unforgiving. You can always see the breath of the inhabitants of this economically depressed suburb. Vast amounts of empty space take up the formalistic widescreen compositions and the camera virtually never moves.
Then there are the sounds: a heartbeat, sniffling, breathing—all these things bring the audience closer to the characters and help make our experience theirs. When things turn violent, the horrifying sounds cue us in to what's happening even though the someone's back is turned or the gore is happening offscreen. Beacuse we've ben paying so much attention to the sounds, their effect is amplified here.
Because Alfredson plays down the fantastical elements of the story, the moments when something unusual rears its head are amplified two-fold. When Eli appears on the jungle gym in the freezing cold without a coat on, that's weird. A static shot of a multi-story hospital building with a small figure racing up its side is amplified by the fact that if you don't start looking for it right away, you'll catch it only out if the corner of your eye. That's weird.
What's not weird are the quiet moments Oskar has to himself.  He is picked on at school. He talks to himself in his room the way he wants to talk back to his tormentors. He has fantasies of using his knife to take care of the bullies. With divorced parents who seem to be only there enough as they need to be, Eli is the only person who sees Oskar for who he is. When certain discoveries are made, everything changes.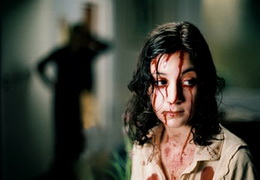 Being a vampire in this film is a practicality. It's an ugly thing, devoid of romance and sex (especially because of the vampire's more-than-implied androgyny) and all things that attract people to the the programs Aaron mentioned above. What unites Oskar and Eli is a whole lot deeper than that. It's a sense that the other has found someone to take care of them.
Another interesting part of the film's construction is that it relies very little on dialogue. If it were a silent film, I'd imagine it would still work. Or if I watched it without Swedish subtitles. Body language and looks between characters tell us all we need to know of the kids' longing.
I hasten to even refer to "Let the Right One In" as a horror movie at all. It certainly deconstructs the genre, keeping far away from at least as many tenets as it embraces. Even if you don't enjoy horror or fantasy movies, give this one a try and let us know what you think below!