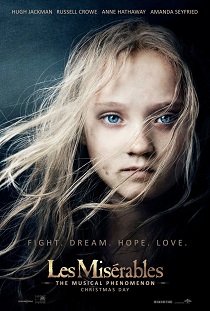 The 1980s smash-hit stage musical Les Misérables arrives on the big screen in a punishing movie adaptation from director Tom Hooper (The King's Speech) that may very well prove to be the "adult" equivalent of the Twilight series.
Actually, Les Misérables isn't as grounded emotionally as the first Twilight movie, which at least made for a semi-convincing allegory, raising teen alienation to the level of ridiculous supernatural romantic fantasy. Les Misérables is nothing but a punishing display of actorly "raw" emotion, ploddingly staged, and stuck in an endless spin-dry cycle.
Hopper, by way of the stage play by Claude-Michel Schonberg, Alain Boublil, and Jean-Marc Natel, reduces Victor Hugo's expansive 1862 novel about meaningful redemption into a claustrophobic soap opera where characters sing about their connections to one another rather than actually developing them.
In early 19th-century France, Jean Valjean (Hugh Jackman) goes from emaciated convict to rehabilitated upperclassman while Javert (Russell Crowe), a former guard, is obsessed with bringing him down. Because you see, in his eyes, people can't change.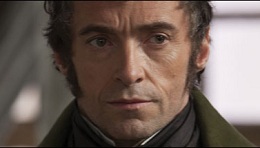 But change Valjean does, swooping in to save the daughter of Fantine, one of his unfortunate factory workers (Anne Hathaway), who creates climax number one of Les Misérables about 40 minutes in with her go-for-broke rendition of the play's iconic pity party "I Dreamed A Dream." The problem is, we've barely spent any time with the woman and she's practically begging us for our tears. Later in the film, we are supposed to believe a relationship between Valjean and her daughter (Amanda Seyfried) exists when no proof is found onscreen. Don't even get me started on the underdeveloped love triangle.
For two and a half hours, Les Misérables roughly follows the pattern it set with everything leading up to climax number one. Misery. Heartbreak. Melodrama. Extended high note. Manipulative death. Repeat. Except in the second cycle, it adds the Rousing Chorus, which plasters blustery lyrics on top of a bunch of kids playing dress-up in French revolutionary costumes.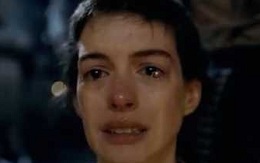 Lest you think that I'm just slamming elements that already existed in the play, let's get specific about why Hooper's version is such a numbing experience.
Movies succeed emotionally when they transcend the performance experience, not when they point out how fabricated they are. (Not all movies need to connect emotionally in order to succeed, but that's another conversation. Les Misérables is clearly going for emotion.) It's already a stumbling block that the actors have to sing snippets of dialogue to connect the 50 or so musical numbers: That's not exactly natural and it eliminates precious moments where we could relate to them without annoying lyrical platitudes. But Hooper's method of making the performances gritty and real backfires completely.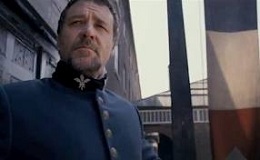 His strategy for infusing an already bombastic and melodramatic stage play with realistic emotion was to have the actors sing on-set (rather than lip-syncing pre-recorded studio tracks as is the standard) and film them in long, unbroken takes—with frequent use of close-ups, handheld camera, and lots of swooping crane shots. Right in their faces. Over and over again.
The cumulative effect is the filmic equivalent of brain freeze. Ice cream tastes good on a hot day, but would you eat an entire gallon? The movie is a continuum of repetitive music (reprises of reprises?) and imagery ("squalid" sets and non-convincing CGI backgrounds), with actors playing as big as possible, even though we are right there next to them. They needn't shout. We can hear them just fine.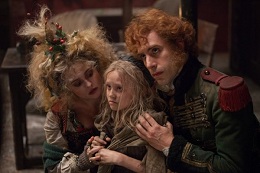 Only Sacha Baron Cohen and Helena Bonham Carter offer any respite from the film's maudlin tediousness as scheming innkeepers who seem like they've wandered off the set of Sweeney Todd. The comic relief was welcome, but entirely too little.
By the time the chorus was chanting, "Black – the night that ends at last!" I was begging for black; for those credits to roll. But they were still a long way off. There's nothing worse than falling out of a movie completely and not being able to get back into it.
Les Misérables did that quicker and more consistently to me than anything else I've seen in a while. It is certainly the most alienating movie experience I've had all year.