"Some balls are held for charity/And some for fancy dress/But when they're held for pleasure/They're the balls that I like best"  – Bon Scott, AC/DC
Showing the same general sloppiness and overall disinterest for anything remotely resembling a new idea or coherent storytelling that he did with "Reno 911: Miami," director Robert Ben Garant gets away with calling a 90-minute montage of sports and kung fu clichés a movie with the new lowbrow ping-pong comedy "Balls of Fury."
The film was co-written by Thomas Lennon, Garant's partner-in-crime from "Reno 911" and MTV's defunct sketch comedy series "The State." Lennon also has a small role as a blitzkrieg German table tennis Olympian who sports intimidating eyebrows and breakaway pants. It should have been helpful to have the writers on the set for most of the shoot, yet there are more gaping holes in the film's consistency than there were kicks to the balls—and believe me, that is no small number.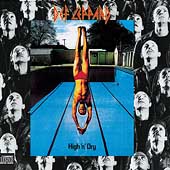 It is a pretty remarkable feat when the most memorable thing about a feature-length movie is its vast collection of vintage Def Leppard tees, worn mostly by the film's hero, an overweight former childhood ping-pong champion named Randy Daytona (Dan Fogler). I'm talking about multiple "Pyromania"-era shirts here, folks. Maggie Q, who has the unfortunate luck to play the generic ass-kicking love interest who goes from disgust to devotion in a matter of minutes, is luckier with her wardrobe. Old heavy metal shirts are hot, and in one scene she gets to wear a sweet "High 'n' Dry" shirt from 1981 that's slightly faded and very sexy, cut over the shoulder to look like Jennifer Beals' sweatshirt in "Flashdance."
But it's Fogler who gets the film's true honors—the opportunity to model the very rare 1980 "On Through the Night" album cover design T-shirt, featuring the guitar strapped to the back of an 18-wheeler that's literally flying away from the sun (but how?) and rockin' on through the night. There were also a couple lame designs from the permed and mulleted post-"Adrenalize" era when the Lep started churning out processed chunks of soft cheese balladry, but those are better left disregarded. Look away, young ones. That kind of behavior should be discouraged.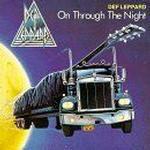 Now that we've gotten the only thing of interest in this movie out of the way, let's talk for a moment about irresponsible behavior.
It is irresponsible to have a blind character (wise old Asian ping-pong mentor Master Wong, played by James Hong) who walks into walls, addresses the wrong person constantly, falls down an elevator shaft and thinks he's been having sex with a woman when it was really a man? The answer is yes, but in a comedy, the problem lies deeper. Besides the fact that making fun of a handicapped person is offensive, the jokes surrounding Wong in this movie are also irresponsibly dull and routine.
I guess that explains the casting of dullards like sitcom star George Lopez, who gets to quote "Scarface" in one of many pedestrian attempts at funny in the movie's dying minutes (which could be construed as anything after the opening credits). Patton Oswalt, a very funny stand-up comedian (and voice actor behind "Ratatouille") spends an embarrassing couple of minutes onscreen as a small-time local ping-pong champ, and his scene is cut short before he can barely break a sweat. Even Christopher Walken, whose walk-on must have landed him a pretty hefty paycheck, can barely muster a laugh or two as fiendish mastermind Feng.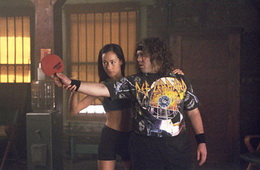 That leaves us with Fogler, a Tony-award winning actor who looks like a lazy improv comedian on autopilot playing to a half-full theater, relying on the proven bits to get their meager chuckles so he can leave the scene as soon as possible.
With the success of every kind of sports movie known to man, I suppose it was inevitable that "Balls of Fury" would get made. Taking a sport that is ridiculed by many but taken truly seriously by few is a high concept that mined box office gold with "Dodgeball" and "Blades of Glory," so it is no surprise that Garant sticks to the formula here as well. Outside that ever-so-reliable framework, however, there is nothing to hold one's attention.
In "Dodgeball," an insane, wheelchair-bound coach played by Rip Torn throws wrenches at his players to make certain they are ready for the big time. In "Balls," Daytona is locked in a room with a swarm of bees and a flyswatter by his blind master. It is the same idea—an absurd training method that's so crazy it just might work! Why anybody would think any of this is remotely clever or funny is absolutely beyond me.