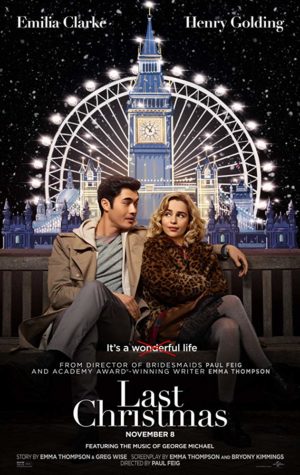 [Rating: Minor Rock Fist Up]

Ah! 'Tis the season to be jolly.

Thanks in part to The Hallmark Channel, Christmas comes early each year, beginning in July. The joy and spirit of the season is ripe to translate on to both the small screen on a constant loop, and yearly in theaters for those seeking out Christmas at the local cinema. The latest film centered around that joyous time of year, Last Christmas, is now here to make comfort audiences for the long two months ahead. Directed by Paul Feig, the tale is about Kate (Emilia Clarke), a down-on-her-luck Londonite, who meets the dashing Tom (Henry Golding) as she comes to understand the realities of life and herself. The movie, in all its warm and bubbly glory, is for the better part of its running time a very decent picture, but sets in motion events that are guessed way too early and way too easily. 

Kate, an unlucky girl who has no stable home, a mundane job working as a clerk in a year-round Christmas shop with her boss "Santa" (Michelle Yeoh) who resents her, and who shies away from her overbearing mother, meets Tom outside the shop one day, bird watching. Kate and Tom strike up conversation, and even when Kate is dashing off to failed auditions for plays, she always seems to run into Tom. The two walk through the city streets a lá The Before Series and Kate shares personal details of her life. Tom notices the unfortunate circumstances of her life, and tells her to go back to visit her family including her mother, Adelia (Emma Thompson) who fears for Kate (or Katarina) because of prior health concerns and because they are a foreign family in a country that is constantly against them. Though still down on her luck, Tom introduces Kate to a local food kitchen, and she creates not only friendships with those there, but also gets involved in bettering both herself by singing outside the kitchen for donation money, and putting on a Christmas show. This is all part of Tom's philosophy of "look up" which Kate shrugs at for most of the movie, despite her looking up at Tom in a more romantic way.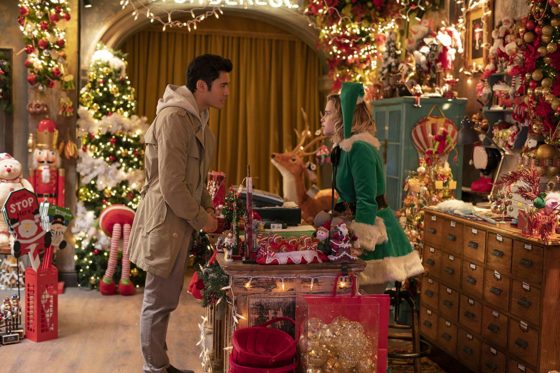 This was a downright fun movie. The plot is very simple and feels like it's been done in more ways than one, but who cares. If anybody needs just a quick escape with a feel-good flick, this fits the bill. It doesn't reinvent the wheel, but the chemistry of Clarke and Golding is spot-on as are the supporting characters. Other than her turn in Game of Thrones, I have only seen Clarke in one other film, so seeing her in a romantic comedy really makes me wonder and hope if this is her thing now, without being typecast. Michelle Yeoh gets a strange romance subplot of her own, and gets to wear beautiful gowns for the sheer reason of because she can. Emma Thompson co-wrote the story with her husband Greg Wise, and you can tell that she is not only having fun with her role in this, but giving some good moments to shine to everybody else. The only major faults in this movie is how predictable it all is from the moment you learn what Kate's illness was and how it introduces George Michael into the movie. 

This year, I have seen now four films centered in or around England and focused on musicians, three of them British. George Michael gave his permission for the use of the song "Last Christmas" before his death in 2016, and this movie in turn is inspired by that song. Kate is an avid fan of Michael, but we never really see anything flourish from that. It's not like Blinded by the Light where the protagonist is influenced by many of Springsteen's songs. In this movie, Kate hears "Last Christmas" in more ways than one at work, apologizing to Michael's legacy of his song being ruined. The complete soundtrack is Michael and WHAM!, but I wish we had a reason as to why Kate enjoys him so much, and from the looks of her childhood bedroom when she returns home, seemed to idolize him in her youth. 

While Last Christmas may not be the perfect Christmas movie, it satisfies. It is much better than any movie you can catch on television, and while it dives into familiar territory (the plot semi-reminded me of The Bishop's Wife/ The Preacher's Wife) and has a very predictable outcome, it still gives a sense of holly-jolly for the season and a sense of happiness for a couple of hours.