It's a bad pun to make, but "Land of the Lost" is just that. Caught in an unfunny netherworld between kid-oriented mainstream summer entertainment and a cheap-looking green-screened sort of surreality, "Land of the Lost" might have been a watchable—no—bearable movie had it just embraced one or the other fully.
Instead, what we are left with in this adaptation of the Sid and Marty Krofft Saturday-morning kids' show (that ran for three seasons in the 1970s) is a half-baked and uninspired lark of a film that will probably please nobody.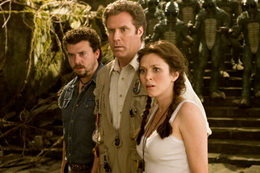 The names are the same as the TV program, but the roles are different. Will Ferrell's Rick Marshall is now a quantum paleontologist (!) who was publicly humiliated for his belief in a parallel universe that he has yet to prove exists. Holly is no longer his daughter—she's a budding scientist (played by Anna Friel) who believes Marshall is correct and wants to help him find this world. Will is played by Danny McBride, doing a lesser version of his redneck schtick from "Pineapple Express" and HBO's "Eastbound and Down."
Through a series of events too ridiculous to spend time relaying here (but not strange enough to be subversive in any way), the trio ends up in this universe where past, present, and future co-exist. Director Brad Silberling apparently felt the premise was too silly to properly set up because he spends barely any time with his characters before dumping them in the CGI landmark-strewn sand dunes that make up this "lost" world. That wouldn't necessarily be a problem if it weren't for the fact that it is so underwhelming.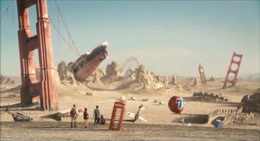 The production design was probably trying to mimic the cheapness of the original's sets and costumes, but since the movie never commits to a parodic tone and never really goes overboard with its extravagance, it just looks shoddy. A bunch of world landmarks stuck in the sand with a Bob's Big Boy statue and other 70s icons does not make a convincing alternate reality—it just looks like laziness.
Though it should be noted that the CGI dinosaurs look very convincing—which is odd, since the mysterious race of Sleestaks are obviously men wearing lizard suits. Why they didn't go with herky-jerky stop-motion dinos to match the cheesy lizard suits is beyond me. Again—no consistency.
Monkey-boy Cha-Ka (Saturday Night Live writer and Lonely Island member Jorma Taccone) is a beloved weirdo from the show, but in the movie he's turned into an annoying horndog who is responsible for about half of the movie's unfortunate stable of pee and poo jokes. He's not the one that drenches Marshall in a big bag of urine, however. Twice Ferrell gets to do that "joke." "Land of the Lost" is so desperate for laughs that it resorts to this kind of stuff far too often, and it's pretty beneath everybody.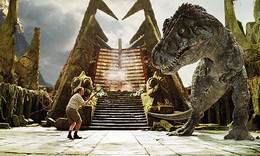 It could be said that adapting a movie from source material that is more well known for being hokey was a dubious idea in the first place, but that would be too simplistic an approach to laying the blame. With Will Ferrell and Danny McBride in two of the three lead roles, "Land of the Lost" had the potential to be an off-the-wall adventure with a winking, nostalgic tone.
One hint of the "movie that never was" (and the only time I laughed out loud) is a scene where McBride realizes the unusual electronic processing powers of a certain giant crystal. Immediately he starts singing Cher's "Believe" with Ferrell and their voices ring out with the same vocoder effect. It's such a random moment of absurdity that it makes me wonder what this screenplay would have been like if the writers (Dennis McNicholas and Chris Henchy) had embraced all the opportunities for a clever spoof.
On the other hand, "Land of the Lost" certainly doesn't follow the classic blockbuster Hollywood mentality either, because the script is so unfocused and characters so non-existent that there is no forward motion or reason to root for anybody. Maybe when Will Ferrell signed on, the producers heaved a sigh of relief because they spent all their time securing the rights to film the movie and knew they'd spent no time on the script. They probably thought, "Throw Will in with a bunch of Sleestax, Cha-Ka, some dinosaurs, and we got a movie! He'll just improvise the rest!"
That may explain why "Land of the Lost" very often took me to the verge of laughter.