The two clueless main characters of the Danish shock-humor comedy Klown (opening this weekend at the Alamo Drafthouse Mainstreet in Kansas City and on iTunes/VOD) are sitting at a table with a bunch of other men from their book club when one of them admits to not having read the book for the day: Joseph Conrad's Hearts of Darkness.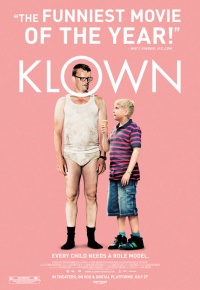 Gangly, good-intentioned misfit Frank (played by Frank Hvam) didn't need to read Conrad's famous up-the-river descent into madness, it turns out, because he and his sex-crazed buddy Casper (Casper Christiensen) would soon live the novel, taking a debauched, ill-advised, and hilarious canoe trip with a 12-year-old boy (Marcuz Jess Petersen).
If this sounds at all demented or perverted already, then you may be surprised to find that even as Klown ups the ante on raunchy humor (stretching credulity well past the point of breaking), it also manages to be somewhat believable. You can blame the natural performances of its stars for that. If this movie were an American film, there would be all kinds of broad gesticulating and hamming it up that would tip off the more ludicrous moments. Instead Mikkel Nørgaard directs it with a handheld realistic flavor.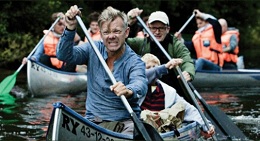 (Come to think of it, an American remake is planned, directed by Due Date and The Hangover director Todd Phillips, so brace yourself. <– If there ever was a reason to see this movie NOW, this is it.)
Based on the hugely popular series Klovn that ran for six seasons on TV stations across Scandinavia, Klown is written by its two stars Hvam and Christensen. Their fictional counterparts bear similarities to their real lives (like Curb Your Enthusiasm or Louie here in America) but in the movie, Frank and Casper get themselves into socially awkward situations that even David Brent might find offensive.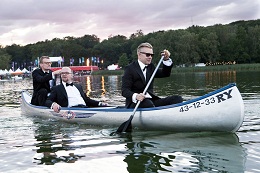 Sure, Klown is another movie featuring a bunch of immature manchild characters and their female counterparts who want them to grow up and be responsible, but it isn't afraid to abandon formula to go to some really dark and honest places with its depiction of the one-track male psyche.
The movie is fearless, although the flipside of that coin is that it often seems a little eager to get its main characters into trouble, and sometimes you can see the joke coming well before it arrives. Is it possible that anybody could be as clueless as Frank and Casper?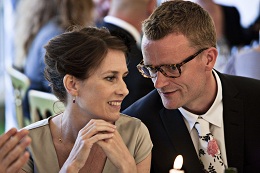 Then again, does it matter, especially if Klown provokes fits of laughter and recognition?
Sidenote: The dry comic tone of Klown makes for interesting subtitle reading. Assuming the interpretation has been somewhat adjusted culturally so that English corollaries are used, it's very successful. What is challenging is trying to take in the whole of the actors performance and recognize each physical choice and tic of the characters while reading.
Sidenote 2: Just below the trailer is a full episode from Klovn season two written and directed by infamous Danish provocateur Lars Von Trier, available for free download!