Melancholia, starring Kirsten Dunst, is a visually stirring, emotionally captivating, completely disturbing movie that lingers long after the credits roll.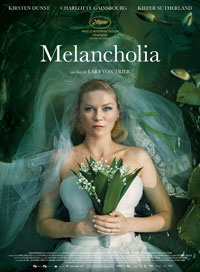 From Danish provocateur Lars von Trier, it's nice to see a movie like Melancholia, because it signals a return to form of sorts and a bold step forward. The writer/director is no stranger to making grand statements in his movies, but Melancholia feels like the perfect realization of some very personal issues.
Lars von Trier went through a depression a few years back and it was the inspiration for the horror-tinged 2009 psychodrama Antichrist. But Melancholia feels like the turning of a corner, which is ironic considering that it deals with the end of the world.
You can't say you weren't warned: The opening shots of the movie are terrifying and strikingly beautiful still-life paintings set to the tragic romanticism of Wagner's prelude from Tristan und Isolde. These impressionistic, slow-motion moments frozen in time have an apocalyptic feel about them, underlined by a shot of a planet slamming into the surface of the Earth.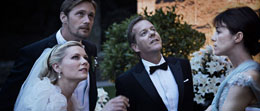 Suddenly, we are whisked to shaky-cam realism, made more in-the-moment with the traditional Lars von Trier jump cuts. Kirsten Dunst (in a career-best performance that won her Best Actress at the Cannes Film Festival this May) plays Justine, a woman who seems to have it all (including new hubby Alexander Skarsgard, whom any girl would kill for, right?) and is headed to a wedding reception at an enormous mansion (at great expense to her brother-in-law Kiefer Sutherland, she is reminded).
All is not well with Justine, however, and this is revealed gradually as her sister Claire (Charlotte Gainsbourg) tries in vain to keep everything running smoothly. This part of the film is labeled "Justine," and every moment in Melancholia's first half is painfully alive.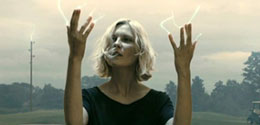 Kirsten Dunst is revelatory. She embodies Justine in all of her contradictions with a naked honesty we've not seen from the actress. Her family, her boss, and her wet blanket of a husband all pull and push her, albeit with kid gloves and hushed tones, while her mother (Charlotte Rampling) cuts to the core of such silly pageantry: Love doesn't last, she says.
Let's not forget to mention that the family drama on display here (and littered with top-notch talent like John Hurt, Stellan Skarsgard, and Udo Kier) can also be incredibly funny, especially given the circumstances. Justine's own narcissistic tendencies are right in line with the coming planetary doom and she seems one step ahead of everyone else as she creates her own personal apocalypse.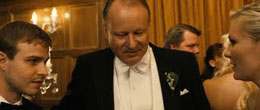 Charlotte Gainsbourg, whose character Claire provides the name of the movie's pace-challenged second half, is nowhere near that. A doting mother, she is terrified that the upcoming fly-by of the planet Melancholia — even with a bit of comforting insider knowledge provided by her scientist husband — will prove to be the end of the world.
Lars von Trier has made a film full of opposing forces. Manuel Alberto Claro's neo-realistic camerawork is at strong odds with his widescreen romantic portraits. Claire's motherly need to help her troubled sister is offset by Justine's ability to calm her sister and son in the film's second half. On one hand, the director seems to be saying that life on Earth is a blip on the radar so why bother, but he fills the movie with such beautiful imagery and music at the same time.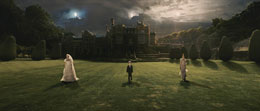 In Melancholia, Lars von Trier has created a deeply personal examination of the the extremes of depression.
Is the end of the world real or metaphorical? Is the science behind it sound? These questions are ultimately irrelevant, as the movie forces the viewer to deal with fear on a personal level as well.
This isn't a film about the "global" end of the world. It's a film about what the end of the world inside one person feels like.