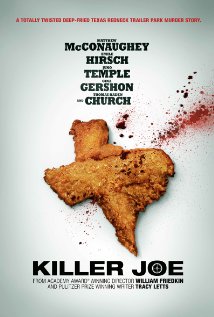 Not everybody loves a prank. When you're stuck in the middle of one, it can be really uncomfortable—but when you finally learn it's all a joke, there's that sense of relief—followed almost immediately by at least a little bit of anger and resentment.
When the joke's on you, it's not always fun. But you have to laugh…right?
The graphic, disturbing NC-17 film Killer Joe unfolds like a great prank, but after freewheeling dangerously and thrillingly for 90 minutes, it skips the relief and goes straight to the punishment. After that: The final, puzzling twist suggests that it may not have been a joke at all.
Adapted from Tracy Letts' play by the playwright himself, Killer Joe is a dark comedy neo-noir that crosses the Coen brothers' Fargo (keeping the half-baked money scheme but ditching frigid northern country for the deep-fried south) with Elia Kazan's Baby Doll (although abandoning Tennessee Williams' underage lust-fantasy innuendo in favor of a more direct approach), and presents characters so stupid and morally repugnant that you start rooting for a stone-cold killer.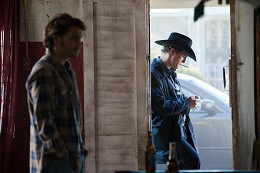 Emile Hirsch, Thomas Haden Church, and Gina Gershon play the Smiths, a dysfunctional family of Shakespearean proportions—although none of them could probably spell "family." Director William Friedkin (The Exorcist, The French Connection) relishes in their depravity and shies away from depicting nothing—no thought is too amoral.
When the Smiths hire a suave detective from Dallas who moonlights as a killer-for-hire (Matthew McConaughey, infinitely intimidating while barely rising above a whisper) to murder their mother for insurance money, he takes a shine to virginal younger sister Dottie (Juno Temple).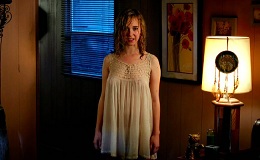 An innocent with wide eyes peeping out from behind a nightgown, Dottie seems to be on her own planet. If she's suffering from some sort of mental deficiency, that may be counter-balanced by psychic powers. Or maybe not. It could also just be one of many red herrings and non-sequiturs in a story that starts slowly and unpredictably and goes completely haywire from there.
Besides being an overheated redneck soap opera, Killer Joe also emerges as a true edge-of-your-seat thriller, but not for the reasons you might expect. It isn't an intricately plotted puzzle that unfolds at the perfect pace for suspense. Rather, it establishes an unsettling air of frenzied anarchy; a feeling that anything can happen at any given moment. The plot subverts traditional suspense and normalcy is way out of reach—like two key characters to the plot that are almost never seen onscreen at all.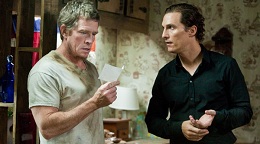 The pulpy dialogue is peppered with tons of quotable lines—the kind that will get funnier and maybe even deeper on multiple viewings. All the actors are playing in some sort of heightened reality, and Friedkin approaches Letts' characters with an interesting mix of empathetic condescension and genuine curiosity.
McConaughey is startling. His usual smooth delivery is instead honed sharp and deadly, like his facial bone structure. There are hints of lewdness beneath his menacing veneer, but it's all couched in confidence and good manners. Haden Church is as funny as he was in his Oscar-nominated role in Sideways, only in a way more pathetic way. Nobody delivers clueless deadpan like him, and his hulking figure is a hilarious counterpoint to his ineffectual demeanor. Temple is riveting as Dottie, and it will probably take at least one more viewing to reach a decision about where her character stands in all of this.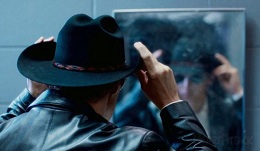 So, back to the prank: As Friedkin and Letts build toward a feverish climax, the tension is ramped up to an all-time high level and you get what's coming to you. It's your fault for rooting for McConaughey's twisted Joe Cooper in the first place, so the movie makes you pay. It's one thing to look at the grim proceedings with an air of distance, but it's another when that brutal violence is staring you in the face and forcing a reaction from you. The joke's on you, pal.
Lastly, the film pulls an about-face and ends on a manic high note that forces you to reconsider some of the very basic decisions that you made about the story and its characters.
Killer Joe upends convention, but it also isn't afraid to employ shock tactics and joyfully roll around in the mud. Not only does it give you the depraved, campy kicks you didn't know you needed, but it might even work on a whole different level, reaching some bizarre brand of actual poignancy by the end.