Director Kevin Smith brought his new movie "Red State" to Kansas City tonight and the Westboro Baptist Church was there to witness it. Well, for the first 12 minutes at least.
Too bad they didn't stick around to see former (or escaped) family members come onstage to be interviewed by Smith after the screening concluded.
Spewing vile hate speech at funerals across the world is no big deal for Topeka-based Rev. Fred Phelps and his flock (or cult) of followers, but after 12 minutes of Smith's brand of dirty sex talk, his daughter Shirley Phelps and her group of about 20 or so "God Hates Fags" protesters were out the door.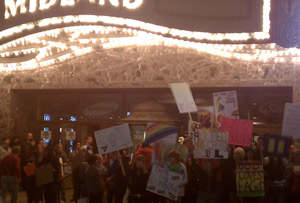 The irony of the situation, of course, is that the movie they were about to see — the one that Smith had roped off an entire balcony for them to do so — was directly inspired by the Westboro Baptist Church (or as we like to call them here in Kansas, our not-so-friendly neighbors).
Before the film began, Smith announced online that he would let in the first 100 protesters for free, so his fans lined the street with signs that said "And On the 6th Day, God Made Unicorns," "God Loves Fags," and "Taste the Rainbow." Sure enough, they were let in. This was as much due to the fact that the event hadn't sold out (tickets were $65-$75 on Ticketmaster) as it was due to Smith showing his loyalists some appreciation.
When I asked Shirley before the film started why she and the family stopped protesting even as Smith supporters stayed outside, and she told me, "Every protest has a beginning, a middle, and ending."
Smith took the stage with great excitement at the promise he got from Shirley's daughter Megan Phelps, whom he referred to as the "Marilyn of the Phelps family," who said she would take the stage and review the movie with him afterwards. But apparently Megan and company found a scene where Oscar winner Melissa Leo (Shirley's doppleganger) lures three teenage boys into a trailer to have sex with them too offensive.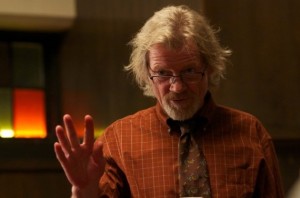 They hadn't even got to the part where Michael Parks (playing a Fred-like religious leader) delivers a sinister speech at the altar while a prisoner is gagged and strapped to a giant cross with saran wrap.
Smith takes great pains in "Red State," which he is self-distributing in October and taking on a 15-city road trip now, to separate the real Phelps clan from the murderers in his fictional Cooper cult. John Goodman — who plays an ATF agent — even mentions the Phelps' in the movie, saying something like "They're suers, not doers."
But in an effort to make "Red State" a straight genre film, he misses out on some great opportunities to pack a more emotional punch. The movie starts out as a teen horror flick (one that looks as if it might veer into torture porn territory but thankfully doesn't), morphs very uncomfortably into a Waco-style disaster, and ends with a "Burn After Reading"-style coda where government bureaucrats blithely discuss the events that caused so much blood.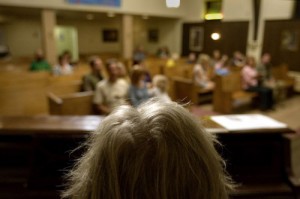 Smith skirts with several ideas that could have been explored in more detail, like the indoctrination of children who are unluckily born into this hateful family. There's a potent moment where these poor kids (who are already mentally trapped) become literally trapped in their home for fear of death and one family member struggles with that realization. It lasts all of five minutes.
What about exploring the issue of loyalty and pressure within the family? All interaction between the Cooper clan is strictly surface value, and what we learn of their relationships is based on the briefest moments between shooting guns or speechifying. Even in a horror movie, a little more character would have been nice.
Freedom of speech is mentioned too, but again, only briefly. The Phelps family recently won a Supreme Court case that gave them the right to continue protesting funerals and it actually strengthened the all-important First Amendment. Great ruling; horrible example of how to use that freedom! Rather than turning the film into an action movie, I wish Smith would have used the plot to explore how the heart and the mind usually differ on this issue.
"Red State" does offer some very tense moments, and some good, old-fashioned revenge escapism, though. It's certainly Smith's most cinematic film. Director of Photography Dave Klein uses expressive camera angles and handheld cinematography to heighten the tension, and his crisp digital images are definitely not designed to flatter the actors. Everything seems to have a layer of grime on it and the color palette is decidedly brown and gray. It all sets a sober and depressing tone that serves the film well.
Some of the plot twists are truly shocking and help serve up the horror elements of the script, but some of the more major plot developments are poorly handled contrivances. A decision that comes down from the government during a raid on the family compound never makes sense, and as the effects of that decision are carried out, it becomes even more ridiculous. It puts the Goodman character in the uncomfortable position of being the moral center of the film, but not really acting on any of his knowledge.
A blackmail subplot with a local Sheriff (Stephen Root) strikes a sour note too, especially after what transpired directly before it. It moves the script forward, but it just rings false. (I'm trying real hard not to reveal too many specifics about the plot here!)
Parks underplays Pastor Cooper and is quietly menacing and self-righteous —  a perfect combination.  After the film, when ex-church members Libby Phelps and Josh Phelps-Roper unexpectedly joined Smith onstage, Josh complimented Parks for capturing the essence of Fred's sermons and Libby said that some of the look of the compound was right on.
Their stories about feeling trapped and finding the courage to leave the church, however, were more gripping than anything in the movie. At one point Smith joked that, after meeting them, he should go back and re-shoot some of the movie. Combine that sentiment with Josh's comments about how difficult it has been to trust or embrace any sort of organized religion after his own experiences, and he may be on to something.
Now THIS is something I'd like to see Smith rise to the challenge of. He's such a talented writer when he empathizes with his protagonists. Unfortunately, all of the members of the Cooper cult are one-note crazies.
Sequel?