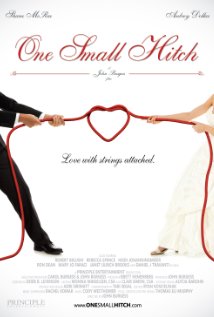 As a modern young woman with a discerning cultural palate, you'd think I'd be over the wedding thing. You'd think I'd avoid shows like the gargantuan block of pointless bride-based programming on TLC, or posting pictures of neat custom invitations to weddings I will never attend. Worst of all, you'd think I'd have realized by now that any movie revolving around weddings (Four Weddings and a Funeral excepted) is awful. And you'd think I'd have realized by now that they could never be anything but bad. But I haven't.
Like a June bug to a kiddie pool, I keep coming back and watching the same lame romantic wedding comedies and expecting a different result. "Maybe this time," I think, "it will be different," but it never is. Over my lifetime I've racked up quite the list of offenders. The Wedding Planner, 37 Dresses, The Wedding Date … it goes on.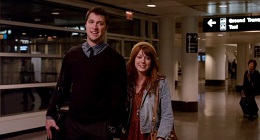 One Small Hitch, screening today at the Kansas City Film Festival, is yet another in the long, lame line of nuptial-focused romcoms. It takes every cliché from every wedding movie and blends them together into an unfocused mess. The cast tries to make the best of a poor script, but even good acting can't overcome a weak structure and characters so transparent you could use them as windowpanes.
Josh (Shane McRae) and Molly (Aubrey Dollar) are L.A. transplants who grew up together in Chicago. Molly's mother is getting remarried, and the two of them are heading back home for the big day. After both of them conveniently dump their significant others moments before catching a plane to the windy city, they find themselves without wedding dates. Josh, desperate to fabricate a fiancée to placate his parents, gets Molly to pretend they're engaged, despite the obvious logistical issues such an arrangement would create. Needless to say, what starts out as a ruse eventually becomes something more.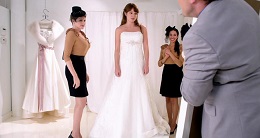 The film has gobs of problems, but its biggest is that it refuses to explore its characters beyond the basest stereotypes. Molly's family is Irish Catholic, so you'd better believe they're loud, blue-collar and ginger. Josh's family is Jewish, so they eat lots of rugelach and enjoy finding reasons to complain about things. All the women in the film have a weirdly specific knowledge of diamonds and engagement rings, because, you know, they're women, and all women know about things like that, right?
But gross generalizations are a problem shown by most wedding comedies. They're practically a feature. What makes One Small Hitch, directed by John Burgess, especially poor by comparison is that it doesn't give us a reason to care about any of the characters apart from Molly and Josh.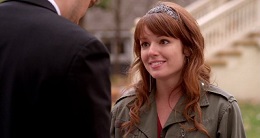 The wedding that serves as the reason for the film's existence is brushed right over—we don't even see the bride and groom exchange vows. Molly's brother, who's supposed to be Josh's best friend, barely gets five minutes of screen time. Leads Aubrey Dollar and Shane McRae are plenty winning, and do a decent job under the circumstances, but it's not nearly enough to cover the gaps.
One Small Hitch is just plain bad. It fails when it tries to be cute, it fails when it tries to be serious. It's supposed to be a movie about family, but the family relationships barely register. The characters are obsessed with relationships and weddings, but the wedding that kicks the plot into gear is barely a blip on the radar. In that way, One Small Hitch is even worse than most wedding comedies. Even My Best Friend's Wedding bothered to show the actual wedding itself.
Click here for more Kansas City FilmFest coverage!