Brunch. Once the lazy man's mid-day breakfast, it's now become the get-together of choice for the young and hip to catch up over mimosas and waffles.
But if your social circle even remotely resembles the high-strung group of friends in It's a Disaster, you know that this boozy hybrid meal can also be a practical minefield of anxieties, passive-aggression and long-held secrets. In other words, it's the perfect situation for an apocalypse movie.
In It's a Disaster, writer-director Todd Berger presents a situation most of us would consider a personal potential catastrophe in our heart of hearts, and turns it into an actual disaster movie. Tracy (Julia Stiles) is going to a couples brunch hosted by married friends Pete and Emma (Blaise Miller and Erinn Hayes).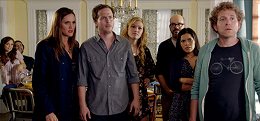 Tracy brings along new boyfriend Glenn (David Cross) to introduce to the group, all of whom are either married or in committed relationships. Shortly into the proceedings, Pete and Emma announce their divorce, followed by news from a neighbor that dirty bombs have just been set off in the heart of town, and the group—who are already reduced to petty squabbling at this point—will have to seal themselves in the house until the all-clear is given.
Berger, directing his second feature, is a very talented writer with a dark, wry sense of humor. The movie plays like The Discreet Charm of the Bourgeoisie mixed with Shaun of the Dead and a pinch of The Day After.
It's absurd and very, very funny, but also includes insightful views into the lives and relationships of its believable characters. The couples of It's a Disaster are ultimately not very nice people, but are enough like the rest of us that by the end of the movie, you're as likely to root for their survival as you are to hope they die.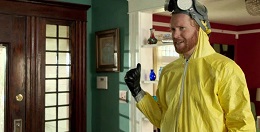 Most of the cast are part of Berger's online sketch group The Vacationeers, and they're great, particularly Jeff Grace as nerdy, neurotic hipster Shane. But the higher-profile additions to the cast (Stiles, Cross and America Ferrera) bring it as well, without overshadowing anyone else. Cross, as always, makes for an endearingly funny straight man. Fans of his work in Mr. Show and Arrested Development will find lots to enjoy about his performance.
It's a Disaster is a nice surprise, easily the most enjoyable movie to come out of this year's Kansas City Film Fest. I'd like to think that it marks the discovery of a major talent in Berger, as well as the lesser-known members of his comically gifted cast. The movie may not always be a knee-slapper, but it's smart, creative, and oddly sweet. At the very least, you'll probably never think of brunch the same way again.
You can watch It's A Disaster right now digitally through iTunes, VOD, and other online platforms.
Click here for more Kansas City FilmFest coverage!