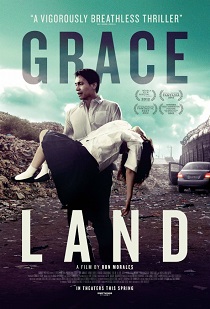 The Kansas City FilmFest 2013 wrapped up this week, and here's two capsule reviews to finish off our coverage. Click here for more Kansas City FilmFest reviews and interviews!
Graceland (2012) – Solid Rock Fist Up
Graceland, the second feature from director Ron Morales, features a story that isn't necessarily new to American audiences, but it's set in a place that is. Morales' kidnapping thriller unfolds in the Philippines. In addition to the central crime that affects its main character, the movie also calls attention to the country's giant socioeconomic gaps, and parts of its criminal underbelly that some audiences might not have been fully aware of previously.
Marlon Villar (Arnold Reyes) is a driver for corrupt politician Manuel Changho (Menggie Cobarrubias). Part of his job involves taking Changho around town to different brothels, where he picks up pre-pubescent prostitutes. One afternoon, Villar picks up Changho's daughter Sophia (Patricia Ona Gayond), and his own daughter, Elvie (Ella Guevara), from school. On the road, Marlon is pulled over by a man dressed as a cop who mixes up the girls' identities, and abducts Elvie. Events escalate from there, especially when it turns out the kidnappers' agenda directly involves outing Changho's deplorable nocturnal activities.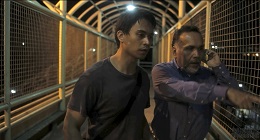 Writer-director Morales is intent on showing us a side of the Philippines that you're probably not going to see on the tourism posters. It's a dirty, unpleasant, hopeless place where basically decent people have to compromise their morals to survive. In Marlon, Morales shows us a desperate man who exhibits sadly plausible behavior as the parent of a kidnapping victim. Most of us, in his particular situation, probably would end up doing some things we're not proud of, and Marlon, a praying man who ends up putting more trust in himself rather than the God he prays to, comes out of the film with his hands nearly as dirty as the sleazy Changho. But it's telling that in spite of his actions, he's still a sympathetic character.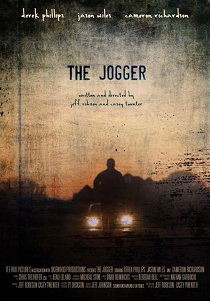 The Jogger (2013) – Swiss Fist
The Jogger is the first film from the writing and directing team of Casey Twenter and Jeff Robison. It's a low-budget thriller that boasts a good plot and some decent performances from its cast, and it won the Kansas City FilmFest Best Heartland Narrative Feature this year. It's not a terribly profound movie, but it's got an interesting premise, and it's a solid first outing from a pair of guys who appear to be on the verge of real success. (Their second screenplay, Rudderless is currently in production, with an A-list cast and William H. Macy in the director's chair).
Paul (Friday Night Lights' Derek Phillips) is a suburban dad with two kids, a decent job, and a pretty nice, if unremarkable, life. While out for a jog one night, he's cut off by a hooded figure wielding a butcher knife who promises not just to kill Paul, but his wife and kids as well. During Paul's panicked escape and attempts for help, the film shows the lead up to his encounter with the mysterious psycho—his strained relationship with his wife, his stresses at work, and his frenemy interactions with an obnoxious, philandering neighbor and coworker.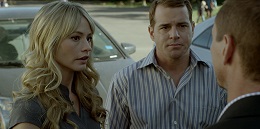 Twenter and Robison's film hinges on a big twist, and they use a slow reveal, told mostly through flashbacks, to get there. It's a good technique that tells the audience a lot about its main character, providing a good first impression, then slowly whittling away at that impression until Paul's true nature finally comes out. Phillips does a good job of showing different sides of Paul as the script requires, too. He does sensitive, nerdy, frantic and ragingly angry all pretty well.
Unfortunately, the two writer-directors don't do a great job of fully tying up the loose ends the movie's climax suddenly present, and the story remains unresolved by the end. While that choice may have seemed appropriate to Twenter and Robison, it's really unsatisfying, and instead gives off the impression that the filmmakers just didn't know how to end their story, even though a definitive ending wouldn't have been that hard to pull off. It's a rookie mistake that really messes up an otherwise fairly impressive debut.