In spite of director Doug Liman's track record of action genre prowess, with films like "The Bourne Identity" and "Mr. and Mrs. Smith," his latest high-speed adventure "Jumper" is a tale of woefully unrealized potential and modest execution.
It's clear that Liman knows how to make action movies, but it seems the personality police should have been called in for an overhaul. Nowhere in this film do we see the kind of charisma that comes with names like Pitt, Jolie or Damon. This film definitely lacks the presence of bankable and talented heavyweights that have helped infuse quality and propel Limon's previous successes. Instead, Limon's cast of post-teen talent delivers an underwhelming ride worthy of their pedigree.
Anyone who previously argued that George Lucas was solely responsible for the soulless delivery of his main characters in the Star Wars prequels will be needing to re-evaluate that position. "Jumper" reteams Hayden Christensen and Samuel L. Jackson, who pick up right where they left off, plodding their way through remarkably bad dialogue, only this time without the forgiving glow of a massively popular modern mythology to cushion their fall.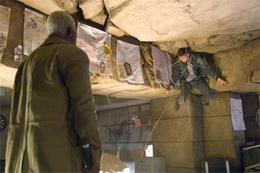 "Jumper" is almost entirely devoid of irony. The film takes itself so seriously at all times it misses opportunity after opportunity for a bit of tongue-in-cheek fun. Among the problems with that choice is, that a Sam Jackson performance can't help but be ironic, which in turn leads to inappropriate laughs and more than a little potential for audience resentment caused by the stifling lack of humor. It took three screenwriters to get this one wrong, all of whom have killer credentials.
The screenwriters are credited with the "Jumper" script are David S. Goyer ("Batman Begins," and "Dark City"), Jim Uhls ("Fight Club"), and Simon Kinberg ("Mr. and Mrs. Smith," and "X-Men: The Last Stand"). Surprisingly, the screenplay fails on some incredibly basic levels like 101 storytelling flaws, poorly established character motives, and enough holes in the plot to fill the Colosseum.
If you step back and observe the story idea in "Jumper" at a distance, it's possible to see how on the page this could easily be an solid work of science fiction. Based on the novel by Stephen Gould, the big picture is pretty sweet, especially the origin of Christensen's powers in the first act, but once you look a little closer it all unravels fairly quickly.
David Rice (Christensen) discovers his ability to teleport in high school after a nasty bully causes him to venture out on unstable ice. David falls in, and suddenly finds himself, and the frigid water surrounding him, on the floor of the local library. His family life is troubled and his newfound power is all the excuse David needs to teleport himself away from his haunted childhood, leaving behind his sub-par father and the girl of his dreams, Millie (Rachel Bilson), for a life of bank robbery and globetrotting. Leap to: years later and the adult David has become a twentysomething socialite who uses his power to traverse the world as a superpowered, metrosexual surfer dude. David's carefree ride comes to an end when he discovers there are other "jumpers," and that an age-old conflict exists between jumpers and "Palladins," a secret society led by Roland (Samuel L. Jackson) that's bent on hunting down and killing all jumpers. David then selects this less-than-ideal moment to seek out his long lost love, putting her almost immediately and in mortal danger.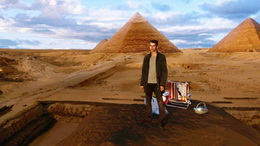 As films like "Unbreakable" and "Spider-Man" have proven, origins can make for great movie fodder. Liman does make the teleporting look cool, and doesn't idle too long showing off what he can do.
On the flip-side,"Jumper" follows a recent trend down a dark path, exemplified by films like "The Golden Compass" and "Eragon," throwing a blatant head nod at an unlikely sequel. Diane Lane makes several brief appearances in the film as David's mother and it's clear that her two days on set serve entirely to give weight to a flimsy story and set up the possibility for a sequel – which in this case is as much a fantasy as the teleportation.
I won't call "Jumper" a disappointment, since I wasn't expecting much. The trailer made it look like it could go either way. Without question, the most frustrating aspect of the film is that it could have been really interesting. For all the things that went wrong with the film, there are enough things that went right it makes me wonder if another rewrite and a few tweaks to the cast would've made for a superhero-sized good time. And honestly, you know what else this film needs… Michael Bay.