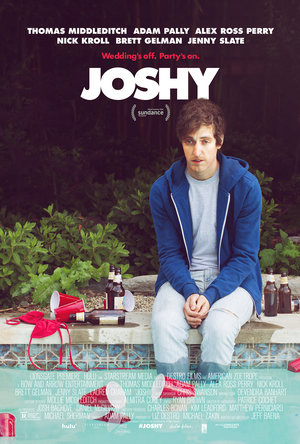 [Rating: Minor Rock Fist Up]
Joshy opens at AMC Town Center and is available through Hulu and other places on demand today.
The five guys in Joshy are a mess. One just got dumped from a 10-year-relationship. One cheated on his wife. Another wanted to cheat on his wife and has control issues. The fourth is a borderline psychopath. And we haven't even gotten to the title character (Thomas Middleditch).
Joshy has it the worst of all. His engagement suddenly ends because his fiance (a very quick Allison Brie) committed suicide…on his birthday. Four months later, he's still reeling.
After failing to get his deposit back, Joshy and his friends decide to take advantage of what was supposed to be his bachelor party in a cabin in Ojai, California. In their attempt to help Joshy deal with his pain and loss, the guys turn the getaway into a raucous weekend filled with drugs, booze, debauchery, and hot tubs. They're all awkward and routinely embarrass each other. You will definitely see your friends in these people: Ari (Adam Pally) is the family man who's never given up doing drugs; Adam (Alex Ross Perry) is the nerd who if he isn't talking about something he likes and know then he doesn't want to be involved in the conversation; Eric (Nick Kroll) is the control freak who doesn't like other people's ideas or moods if they're counterintuitive to his; and lastly Greg (Brett Gelman) is Eric's friend with a quiet intensity.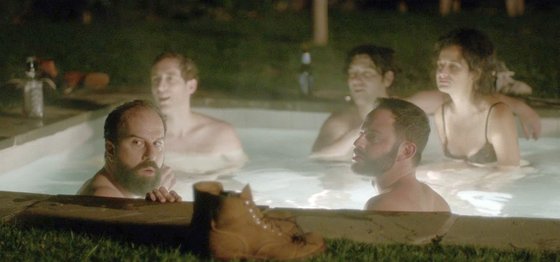 This alone is a great cast, but writer/director Jeff Baena was also able to grab Jenny Slate, Jake Johnson, Aubrey Plaza and Paul Reiser. Basically a who's who of recent, great mumblecore films.
Joe Swanberg, director of Drinking Buddies and Digging for Fire, even makes a cameo as one of Joshy's friend who mistakenly brings his family to guys weekend. Once his 5-year-old son gets offered coke, though, they were quickly out the door and flooring it down the driveway.
Like a film by Swanberg or the Duplass Brothers, Joshy examines how different people handle grief. Everyone is dealing with heartache, whether they can admit it to themselves or not. It's easier for some to do than others. I laughed out loud a few times, mostly because my friends and I are as awkward and weird as these guys are in public, but I also able to sympathize with these characters. That's how you know you're watching something good, when you become invested. I wanted to get in there and help these people out.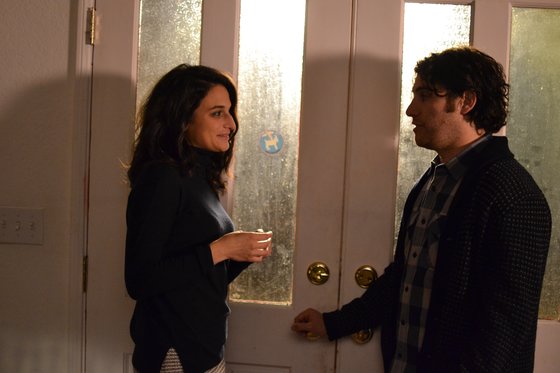 Baena's sophomore feature — his first being the criminally underrated Life After Beth — features comedic talents in roles that should get them more work in Hollywood than what they've been relegated to so far. I'm especially talking about Middleditch and Kroll. As Joshy, this was the first time I've seen Middleditch not play the awkward, nerd role. He and Kroll show emotional depth not usually seen. We know these two are funny just from their work on Silicon Valley and The League/Kroll Show, respectively. Hopefully this expands their resume.
Joshy is an amusing portrayal of male bonding and the emotional incompetence of how we choose to deal with, or not deal with, pain.