[Rating: Solid Rock Fist Up]
The John Wick movies have low-key become one the most dependable and enthralling action franchises in production. And yes, Keanu Reeves has established himself as one of the hardest working badass mother fuckers in Hollywood.
John Wick Chapter 3: Parabellum may not be the best of the bunch but when it's good it's good enough and for a mindless action movie … that's good enough.
Picking up in the closing moments of Chapter Two, Parabellum (which is Latin for Prepare for War), has John on the run, with a 14 million dollar bounty on his head for breaking one of the cardinal rules at the Continental Hotel, the safe haven for the elite assassins and other shady characters of this fantastical world. With only a shortlist of allies, including Ian McShane, Lance Reddick and Laurence Fishburne returning to their respective roles, Wick also recruits Halle Berry into the fray as he sets out on a global mission that will take him to from New York to Casablanca, Morocco and back in an attempt to clear his name with the mysterious High Table.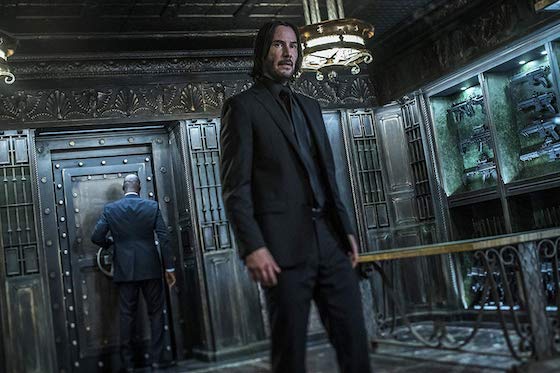 Chapter 3 works best when it keeps to the simplicities that have made this franchise click so far and that's the hyper-frantic action sequences and gun fights, which thank the action film gods, have been jacked to eleven for the third installment. Director Chad Stahelski, himself a former stuntman, ups the ante on everything they've done to date and it is fucking intense and electrifying. The beauty of these scenes are exemplified in the camera work, which is second to none, managing to keep pace with lightning quick action streaking across the camera lens without losing the impact of every punch, kick and gunshot.
Unfortunately, there are too many times where the film slows down to give the audience a much needed breather and this allows too much time to try and fill that void with plot. One of the themes beating throughout the film is the idea that all choices have consequences but apparently Stahelski and his creative team, which included four screenwriters, weren't sure whether or not they should wrap things up or leave a few threads open just in case. Guess which they picked?
But then there's Reeves who at age 54 continues to defy logic and reality by continuing to maintain his status as one of the hardest-working action actors in film today. He's never going to be mistaken for one of the great thespians of our time, but the man is really fucking good at what he does and every now and then he finds role that is handpicked for him by the film gods.
John Wick Chapter 3 may not be the last installment of this franchise but the insanely frantic action sequences and Reeves' understated perfromance make up for an overabundance of exposition. There is at least a TV series in the works and depending on how well received this third outing is by audiences, most likely more flicks with Wick.
Hopefully Reeves and Stahelski come up with way to inject some fresh juices into the franchise before the novelty of the insane balls action scenes simply aren't enough.