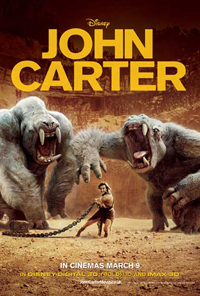 It takes a studio known for its animation and a director who began as an animator to create a film as visually synthetic as Disney's John Carter, but it's not the computer generated landscapes and characters that do it in. The misuse of the source material and a weak leading man take care of that.
Adapted from Edgar Rice Burroughs' 1912 pulp magazine serial Under the Moons of Mars, John Carter is the story of former Confederate Army Captain and titular character, John Carter (Taylor Kitsch).
After the war, Carter becomes a prospector searching for gold in the American Southwest. He has lost his family and his cause and now he is simply after material wealth.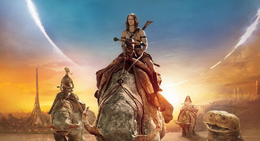 Carter discovers a mysterious cave filled with gold and a knife wielding bald man, whose amulet transports Carter, via a bodily projection, to Barsoom, which we Earthlings know as Mars.
On Mars, Carter's surly mercenary nature and the planet's limited gravity give him the strength to rise within the ranks of the Martian natives, and quickly become a force to be reckoned with.
The effects of the Martian gravity on our protagonist reveal one of the running flaws throughout the lengthy John Carter. Things are always just a little too easy for our main character, and plot points line up like stepping stones as he too conveniently finds key information just before he needs it to overcome whatever small obstacle will face him next.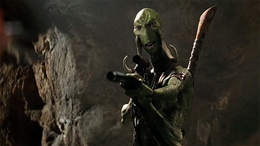 Carter's amplified Martian strength allows him to dispatch an entire army in one scene, but even before that, Carter's frustration over his inability to understand the Martian tongue spoken by the 9-foot-tall Tharks is only short-lived. When his Thark caretaker, Sola (Samantha Morton), gives Carter a magic potion all words are miraculously translated. Problems melt away like icicles in the desert of Mars.
Of course John Carter is an adventure story and such plot-driven narrative is unfortunately expected. Had the film come through on all other counts, a plot that reads like driving directions could be forgiven, but Kitsch, true to his name, holds only fleeting interest and lacks the substantive qualities necessary to command our attention and lead the film.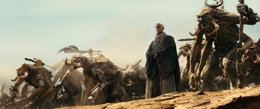 Carter in Kitsch's hands was easily the least interesting character, and I found myself wishing that writer/director Andrew Stanton (WALL-E, Finding Nemo) had focused on the far more fascinating Dejah Thoris (Lynn Collins). Thoris could have easily been our main character, but instead this warrior princess fights when the scene calls for it only to become emotionally weak the next scene — whatever Carter's motivation demands.
Here we can discuss the double-edged nature of John Carter's source material. Written in 1912, Burroughs' story feels at times quaint or out of date. When the storytelling devices of Burroughs are employed, including the narrative bookends of young Edgar Rice Burroughs, as a character, discovering his Uncle Carter's journal, the effect is charming.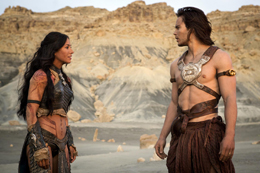 But the sentiments of 1912 are now 100 years in the past and the colonial nature of the narrative – a white American outsider comes to a desert land filled with red-skinned indigenous peoples and quickly becomes their ruler because otherwise the indigenous would kill themselves with civil war – is at best troubling given the United States' contemporary geopolitical situation.
Much like the misguided nature of Pixar's Cars, which focused on the love of the open road and adorable fossil fuel consuming main characters while we were in the midst of a global gas crisis and record high fuel prices, John Carter seems absurdly blind to the contemporary world of its theatrical release.
It might work as escapist fantasy or visually pleasing space opera, but unless Dejah Thoris is at the helm, leading her own Martian followers, it is an escape that holds no interest for me.
For another (far more forgiving) take, check out Scene-Stealers Editor-in-Chief Eric Melin's review of John Carter.