With the exception of a few arthouse hits, the type of Japanese films that gain notoriety in America tend to lean towards the violent or random. Potentially a little bit "weird" for the art crowd, and a little too "art" for the weirdos, "Fish Story" (Fisshu sutôrî) is a breath of fresh air that deserves attention.
It's 2012 and a comet is mere hours away from Earth. The American attempt to destroy it, dubbed "Project Armageddon," planted nuclear bombs but could not detonate them.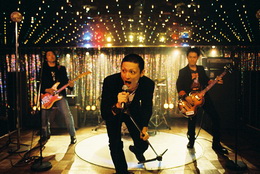 A man in a wheelchair wanders into a record store where a clerk and his patron are discussing punk music, seemingly oblivious to the unfolding events. The clerk breaks out a record, a rare single from a Japanese punk band that was recorded a full year before the Sex Pistols emerged. It's called "Fish Story," and its lyrics are either incredibly deep or completely nonsensical.
From the introduction of the song, we jump around to several points in time as various seemingly unrelated events unfold: The band in 1975 as they struggle to find an audience, a group of doomsday cultists in 1999 that are less than pleased when the world fails to end, a mild-mannered young man bullied by paranormal recording aficionado friends in 1982 and his chance encounter with a girl who claims to be psychic, and a science major on a ferry who sleeps through her stop in 2002 and finds herself in the middle of a terrorist hijacking whose only hope is a waiter who claims to be a champion of justice.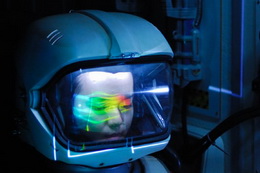 How do they tie together? What does the song mean? Is there any hope the comet will be destroyed? Are there any champions of justice left? Can music really save the world?
The way the movie unfolds is its biggest strength. Sometimes movies that juggle various timelines and characters struggle with pacing or fostering a consistent level of interest. Subverting the traditional three-act structure is much harder than it seems.
But "Fish Story" works by always remaining compelling and never overstaying its welcome.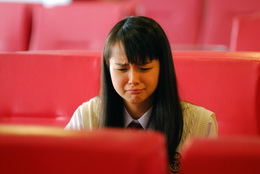 While some critics have made comparisons to Robert Altman, this film (directed by Yoshihiro Nakamura) probably feels closest in tone and plotting to two slightly obscure Canadian movies, the end-of-the-world ensemble "Last Night" and the time-spanning "The Red Violin."
Like those, "Fish Story" is a smartly told movie of great ideas and humor that explores fate and the way in which life and even world-altering events can hinge on the smallest of decisions and coincidence.
Hopefully this finds U.S. distribution, because this "Fish Story" is a great movie that's well worth catching.