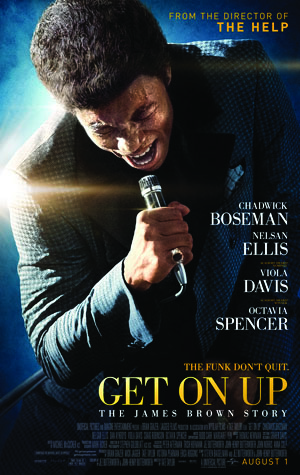 [Solid Rock Fist Up]
Before I share my thoughts on the James Brown biopic Get On Up, let me share with you my musical upbringing and how I approach musicals or music-centered films today.
I grew up in the 1990s during the grunge/punk rock era. That was, and still is, my style of music. My father, whenever he could, introduced me to various classic rock bands he enjoyed while growing up. But, more importantly, he also made sure I knew the important players in blues and jazz.
Now, I'm white. Probably one of the whitest people in Kansas City. And perhaps the last person to judge soul or R&B. But I like to believe I know good music when I hear it. That goes true for music in movies, as well, because earlier this summer, after walking out of the theater for Jersey Boys, I could not stop listening to Frankie Valli and the Four Seasons. So when the credits started rolling for Get On Up, starring Chadwick Boseman as the late James Brown, the only artist I have been listening to on Spotify since has been James Brown. I didn't know much of his work going into the film, but I've since fallen in love with such albums as Showtime and Live at the Apollo, which was featured in the film.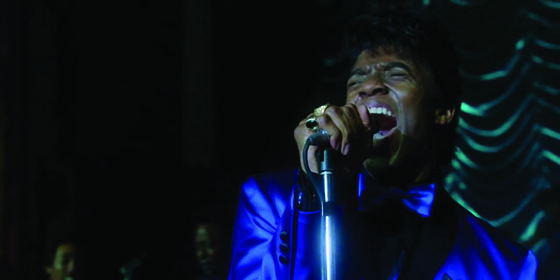 Directed by The Help's Tate Taylor and produced by Rolling Stones frontman Mick Jagger, Get On Up chronicles Brown's early days growing up in poverty in Georgia, his rise to fame and his years as one of pop music's most influential icons and, standard in any musician biopic, the artist's downfall. Tate takes several creative approaches telling Brown's story, a non-linear structure — starting the film in 1988 then darting to important periods in Brown's life in 1968, 1939 and 1964 — while allowing Brown to occasionally break the fourth wall.
The movie is over the top but so was Brown, and Boseman does an excellent job at portraying the crazy genius that was James Brown. In a Huffington Post interview, Boseman said a majority of the film's singing is from Brown's catalog. On a few occasions, he added, we hear the actor's voice if a song wasn't a recording. If you asked me to point out who was singing during a particular scene, Boseman or a recording of Brown, I wouldn't be able to choose. Boseman picks up the mannerisms, the dance moves and executes the distinctive Brown voice perfectly.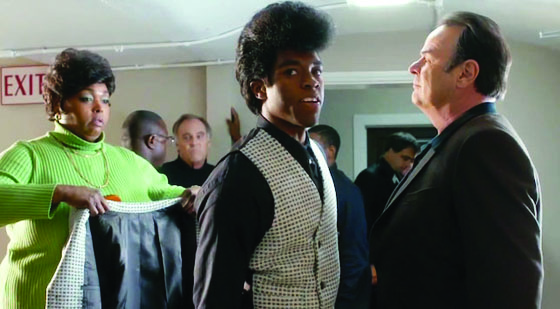 The film also stars Nelsan Ellis as Brown's longest friend and musical companion Bobby Byrd, Octavia Spencer as the female pimp Aunt Honey whom Brown worked for as a young child and Dan Aykroyd as Ben Bart, the musical executive who works his way into Brown's inner circle. Of the many relationships showcased in the film, the one between Brown and Bart intrigued me the most. Brown, through advice from Little Richard, was cognizant of what music executives were looking out for. The business. But somehow, Bart got through to the musician and during the early stages of his career, helped utilize Brown's potential to the highest degree.
By the end, there were questions left unanswered and Tate dramatized several life moments that didn't need to be embellished for dramatic effect. Tate doesn't hold back, either. At times during the movie, I cringed at how the Godfather of Soul carried himself. This was a man who was hard to like, at least to those in his inner circle. But people around him knew he was a genius. James Brown was a revelation and this movie helps people remember what he brought to the music industry.