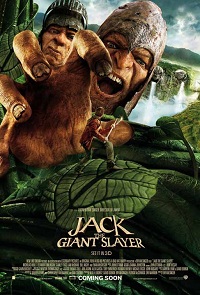 Jack the Giant Slayer is the latest in the steady stream of films that takes old, familiar fairy tales and updates their antiquated social mores with a modern sensibility.
And like Red Riding Hood, Snow White and the Huntsman, and Hansel and Gretel: Witch Hunters, Jack the Giant Slayer feels flat and uninspired.
If it weren't for the detailed and fully realized VFX work that was put into making the giants, the movie would be a total wash. (For my feelings on how that related to Hollywood's current effects-house problem, read this.)
Nicholas Hoult, so expressive in what most people would consider a fundamentally inexpressive role as a sentient zombie in Warm Bodies, is almost a non-entity as Jack, the medieval farmboy who gains possession of some magic beans. As a child, he was fascinated by the legend of giants that lived above the clouds and the towering beanstalks that allowed them to descend and wreak havoc among humans.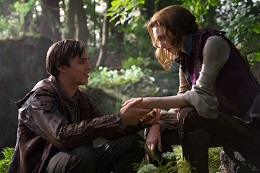 One nice touch of the otherwise bland screenplay, written by Darren Lemke and Dan Studney and touched up by Christopher McQuarrie, is that parallel to Jack, there was a young girl who also thought often of these stories. Their imaginations were stoked by tales of heroic humans who fought off the giants and the possibility that they may have been real and might one day return.
For that brief moment at the beginning of Jack the Giant Slayer, it seems like this connection with uninhibited childhood imagination may be rewarded. Unfortunately, the movie that follows is as generic as it gets, wasting the talents of formidable actors like Ewan McGregor, Ian McShane, and Stanley Tucci. (Tucci at least has a couple of moments where a little comic zing escapes from behind his toothy scowl.)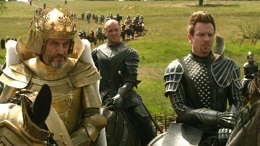 The girl with dreams of giants is of course a princess (played by Eleanor Tomlinson), and Jack must soon rescue her when a beanstalk suddenly sprouts from the ground and barrels towards the heavens like a Mack truck. He is accompanied by the King's men, and the plot then becomes an excuse to string together a series of effects-heavy shots and have supporting characters get killed off in different ways.
Since Hoult and Tomlinson don't generate much heat and the story has zero surprises, there's not any reason to stay invested in this dull fairy tale re-imagining. The film suffers from timing, I suppose, being the most recent in this lame fairy-tale update trend, which seems to exist only to let Hollywood's VFX artists loose on properties that are immediately familiar to a global audience. There's also a dulling effect carried over perhaps from the other wearying films, so I was outside of the film looking in very early on and never returned.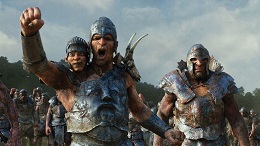 But the giants themselves are pretty remarkable CGI creations, full of detail and depth. What the giants lack in character development (their leader is voiced by Bill Nighy), they make up for with an astonishing level of realism within this fantasy world. Sadly, even the 3D of Jack the Giant Slayer is unremarkable, lacking in the kind of you-are-there feeling that the best 3D movies can provide.
Jack the Giant the Slayer is, pardon the pun, a giant step backwards for director Bryan Singer, whose best films (X2: X-Men United, The Usual Suspects) have a personal stamp and passion that comes across in the storytelling. Instead, its just an assembly-line, visual-effects-heavy fantasy that barely registers.