The Fishbone documentary Everyday Sunshine is not all roses.
Watching Fishbone – the California skafunkrastapunk rock 'n' roll carnival – go from playing front of a packed theater of rabid fans in Los Angeles in 1992 to a handful of disinterested folks in a Hungarian square 15 years later shows exactly what can happen to a band – it can go from being the next big thing to the thing that wasn't rather quickly.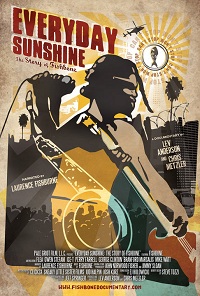 For those that "got" Fishbone, they should've been the biggest band in the world, but it was sadly never meant to be.
Everyday Sunshine: The Story of Fishbone is a straight-up music documentary, following the standard movie formula of contrasting the band's rise and early days with where they are currently, interspersed with concert footage and talking heads. Happily, though, the documentary manages to set itself apart on several levels.
As the band tells stories of their early days, you see animated depictions of the stories playing out, in which the band is made out to look like Fat Albert and the Cosby Kids. It's a refreshing change of pace from the usual movie scenario, wherein you've a got a voice-over under some static shots of the young, pre-band kids. (This film is narrated by Laurence Fishburne, by the way.)
The animation is a pretty apt depiction, especially once footage of the band's early performances starts playing. The band itself is so animated, the cartoon look just fits. Watching them onstage in those early clips is akin to seeing a group of acrobats who happen to play instruments. The cartoonish look contrasts nicely with the stylized art used during the movie at other points – which runs the gamut from mosaic to rasterized photos to that sort of animated storybook look you get on an episode of Reading Rainbow.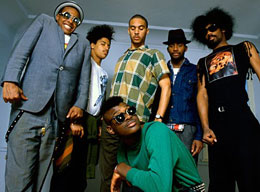 Like the band's musical palette: The documentary has a look that's varied, different — but always interesting.
At one point in the movie, there's concern that Fishbone is too cartoonish, and Everyday Sunshine does a lot to show that these guys are real people: Scenes of bassist Norwood Fisher surfing, frontman Angelo Moore with his daughter – these moments humanize people who had always seemed like unreal characters to me. But Angelo living with his mom because he was evicted – that's uncomfortably real.
Which is as it should be, of course. Documentaries are meant to show you real shit, if they're done properly, and real shit isn't always pleasant. However, as the movie progresses, you see how early disagreements are forgiven, and old ties once broken are renewed, giving the film a sense of rebirth, and anything that ends positively always leaves a pleasant feeling after viewing it.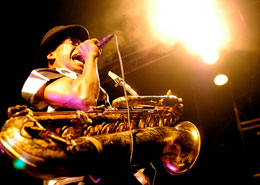 Interviews with contemporaries and those influenced turn out better than those with the band's inspirations like George Clinton. While I understand that Parliament is one of Fishbone's influences, with those animated segments of the band's early days featuring a Parliament poster prominently displayed, Clinton is so out of it as to be useless. I would have killed for the time used to get him onscreen to have heard more from Branford Marsalis, and hear what a relatively "straight" musician has to say about such a wild band.
All in all, though, the documentary Everyday Sunshine places the band in a larger slice of the sonic spectrum than they're usually afforded. The people whom they influenced – such as every member of No Doubt and Primus' Les Claypool – as well as contemporaries like Flea of the Red Hot Chili Peppers and rapper Ice-T all sit in such awe of this band that, even if you've never encountered the band's music, you'll be compelled to do so after viewing. For those who are already Fishbone fanatics, this is just manna from heaven.
While not quite yet out on DVD, Everyday Sunshine is screening at festivals around the world, and the filmmakers hope to have the documentary ready for purchase by early next year. You can keep an eye on screenings and release info at the film's website.