What better actor to play a hard-drinking billionaire playboy than Robert Downey, Jr.—whose own well-publicized brushes with the law inform every scene he's in? The actor's real-life troubles serve as a kind of shorthand to the lead character on display, and it helps make "Iron Man" the smartest kind of dumb comic book movie.
What we have here essentially is the story of an arms dealer who gets a conscience after seeing his own weapons used in Afghanistan on the wrong people, namely, himself. This film lays out its geopolitical conflict in way simpler terms than it has any right to, and gets away with it because it is also about a flying suit of armor. It's like "Charlie Wilson's War" without the uncomfortable satire, or maybe "Lord of War" with a better sense of humor. Thankfully, this easy-to-swallow political action item comes in the harmless and familiar form of a superhero origin story.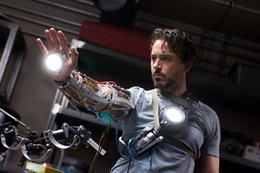 Let's back up for a second. In the original Marvel comic, the weapons manufactured by the incomparably brilliant and wealthy Tony Stark (Downey, Jr.) are used to fight communism. In the movie, Stark is on a trip to Afghanistan (rather than Vietnam like the comic) to introduce new missile technology to the U.S. Army when he is kidnapped. He then sees his company's name on all the bombs used by his captors, the evil Afghan warlords. His unique engineering ideas (and a lot of bad guys not paying very good attention) allow him to create a suit from spare heavy metal parts lying around in a cave. With this armor, he will break free and return home with a new sense of purpose.
Director Jon Favreau ("Made," "Elf," "Zathura") knows this premise is be a little hard to swallow, so he keeps things moving fast, and fun. Stark's arrogance is equally measured by his wit, and by the time he turns into an unlikely hero, we are totally on board. Favreau's excellent eye for comedy is a huge boon to this movie, which takes itself seriously only when it absolutely has to in order to work as a character mythology. With the movie's naturalistic, smartass tone, Favreau and Downey, Jr. are admitting that they wouldn't have believed it either if it hadn't just happened. They manage to do the impossible after the last eight years of CGI-powered movies—make all the familiar beats in the superhero origin story seem fresh again.
Gwyneth Paltrow plays "Pepper" Potts, Stark's personal assistant, and every time the two of them are onscreen together, there is a spark waiting to catch fire. Downey, Jr. and Paltrow do a lot with a little here, and lay the foundation for a relationship that will no doubt build through more films. Only Terrence Howard, as Lieutenant Colonel Jim Rhodes, feels underused in "Iron Man." His character's screen time is reduced to quick, jokey segments with his pal Stark that showcase the pair's long friendship. Perhaps Favreau can expand upon this during flashbacks in later "Iron Man" movies.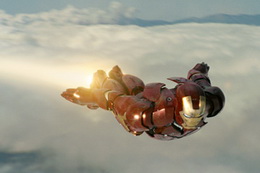 The best origin tales keep the evil close to home—Spider-Man's nemeses were his best friend and that guy's Dad, while Wolverine's worst enemy is the man who created him. Jeff Bridges is the bald and goateed Obidiah Stane, a friend of the family and Stark's business partner. Besides being a shifty dude, he also delivers the scariest and most telling line of the movie when he's berating a Middle Easterner and says something to the effect of "technology has always been your Achilles' heel in this part of the world." The nerve!
The central theme of "Iron Man," like any good superhero flick, is responsibility. Appropriately, the screenplay flirts with the question of whether man can use industry and technology for betterment or whether those staples of American life will use man instead, isolating us from their effects on society. Wrapped up in a slick, entertaining package, "Iron Man" isn't really willing to get too deep into this age-old quandary, but that doesn't stop Stane from throwing in references to the atomic bombs dropped on Japan to end World War II.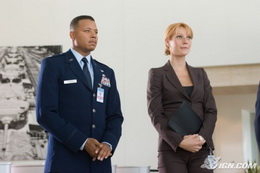 Maybe the reason Favreau doesn't pound the movie's message down our throats is because he doesn't need to. When the blithely carefree Tony Stark wakes up and grows a pair, its pretty obvious what is happening. The movie doesn't need to go into the real-world crisis of a military industrial complex that is as ingrained in American life and jobs as going to see superhero movies every summer. The film works on a purely entertaining level alone.
"Iron Man" does, however, simplify issues in a grand fashion. When Iron Man flies halfway around the world to save a Middle Eastern father from being executed in front of his wife and kids, its a pretty larger-than-life moment that speaks volumes for the film's point of view.  It won't get anybody to seriously alter their opinions on military spending or where the country allocates its power, but the overall impact it may have is in a general changing attitude towards what is responsible. While its an oversimplification in some eyes, it's at least a step in the right direction.
Ironically, that same craving for technology that gets people in trouble in the first place also pushes us to want to see gaint "robots" fight each other and blow up stuff real good. Favreau's "Iron Man" understands both of these things, and delivers what it needs to with a self-aware sense of humor.