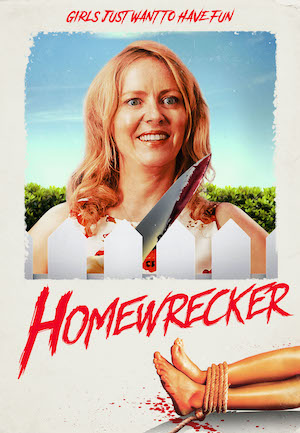 [Rating: Solid Rock Fist Up]
Director Zach Gayne's new film Homewrecker (in select theaters June 26 and on digital and DVD July 7 from Uncork'd Entertainment and Dark Star Pictures) is one of the most intense films I've seen in ages. From a script by Precious Chong, who also plays Linda opposite Alex Essoe as Michelle, the scope of the film might be narrow, but it results in an intense focus.
"Michelle is an interior designer and newlywed to Robert. Linda lives alone and fills her days with painting and exercise classes. Seeking a new friend, Linda coerces the reserved, deferential Michelle into visiting her home for a spontaneous interior design consultation. Once inside, it quickly becomes clear that Linda has something far more sinister on her mind than throw pillows."
With the exception of the early scenes in various exercise and workout classes, the majority of the film takes place within Linda's cluttered home. It's a masterful use of low-budget film-making techniques, while also placing the entirety of the film's success or failure on the shoulders of Chong and Essoe, who are more than up to the task.
Within ten minutes of Homewrecker's start, my wife left the living room to go read upstairs, explaining that the film was pushing her panic response – and that is 100 percent an accurate way in which to react to Gayne's film. For most of the movie's brief 76-minute runtime, Linda is intense. Her constant stream of direct questioning, unfiltered personal revelations, and random asides means that the viewer, along with Essoe as Michelle, is never given a spare second in which to gather their own thoughts and formulate a plan for escape.
Shortly after the pair arrive at Linda's house, Michelle goes in the bathroom, and we see her sitting with her head in her hands. It's briefly silent, except for Michelle looking up to the ceiling and wondering aloud, "Fuck. How do I get out of this?" The answer is that she can't, obviously, and the reasons behind that become both less obvious and sinister, in lockstep with one another.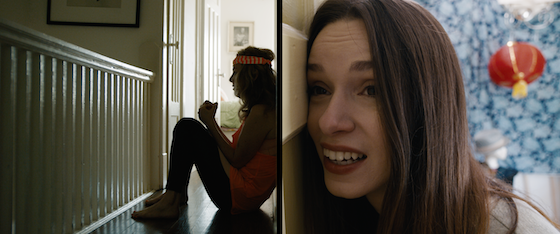 The viewer thinks that Linda is obsessed with Michelle, and that's borne out from the get-go, but as the reasons behind an awkward encounter rapidly escalate along with the encounter itself, the rationale behind Linda's behavior begins to seem less and less the ravings of a mentally-unstable woman and more and more like they might have some grounding in reality.
Scenes of Linda and Michelle are intercut with pink, swirling foamy liquid with a distorted face and mouth occasionally popping through. It's a visual effect which readily mirrors the emotional confusion of Michelle and the viewer. Linda's behavior is just so intense, it's difficult to put into words how disconcerting this film is to view. Director Gayne makes effective use of having Linda directly address the camera in many sequences, leaving the viewer to feel as though both they and Michelle are being spoken to.
At no point is Homewrecker disorienting, though. Gayne's direction and Chong's script are laser-focused on the interactions between this pair of women, and as the film goes on, the feeling of the viewer is that they're right there in Linda's house, between her and Michelle as the interactions become increasingly fraught with danger.
Guitarist Doug Martsch is known for his work as the frontman for long-running indie-rockers Built to Spill, and while that band's music occasionally goes off-kilter, it's always with a certain pop sensibility. Here, Martsch takes an acoustic guitar and turns the music inside-out, bending and skewing notes to near their breaking point, only emphasizing the intensity of every scene and moment, making the impending danger all the more palpable.