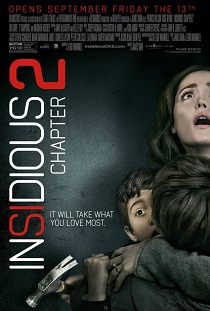 Astral projection, demonic possession, time travel, and simple things that go bump in the night — there's a lot going on in the newest scary movie from the man behind the original Saw. Insidious: Chapter 2, is about as creepy as PG-13 horror gets, and it's a pretty good time overall. Just try not to think to deeply about the many plot holes, and make sure you've seen the first one.
Insidious: Chapter 2 is not as good as director James Wan's critically acclaimed release from earlier this year, The Conjuring. It is, however, the rare sequel that surpasses its predecessor in quality and entertainment value.
That being said, and I cannot stress this enough, if you haven't watched Insidious, don't even bother with Insidious: Chapter 2. I watched Insidious for the first time the day before the screening of Chapter 2. I can't imagine how confused I would have been without seeing it in advance. This sequel doesn't hold your hand. It fully expects that you've watched the first one, and it gets down to business right where the 2011 cult hit left off.  I respect that in a horror movie. Nothing drives me crazy like watching a sequel of any film where they spend the opening half hour recapping everything and everyone from the first go-round.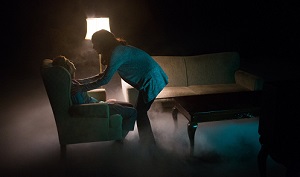 Here are the basics: Josh and Renai Lambert (Patrick Wilson and Rose Bryne) try to find a way to protect their children and themselves from the dark supernatural forces that seem to be attached to their family, rather than just the house they live in. Overwhelmed on their own, they enlist the help of a duo of paranormal investigators (writer Leigh Whannell and Angus Sampson) and a psychic (Lin Shaye). There's a lot of talk about crossing over, dead souls trying to reenter the realm of the living, and general other ghosty type stuff. The original Insidious and Insidious: Chapter 2 both deal with these same characters and basic plot.
If anything, the title is completely appropriate. This isn't a sequel as much as just a continuation, building directly on the ending of the first film. There are even some pretty inventive callbacks to things that happened in the first movie that take on completely different meanings when viewed through the events of Chapter 2.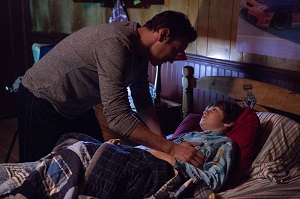 That being said, original storytelling is not exactly a strong point. Both movies wear their influences on their sleeve. If the first film was The Amityville Horror crossed with Nightmare on Elm Street, Insidious: Chapter 2 could easily have been pitched as The Shining crossed with Poltergeist. So much so that I was waiting for one of the characters to shout, "Here's Johnny!"
There's usually a certain amount of "just go with it" in most horror films, and Insidious: Chapter 2 is no different. Most of its premises and motivations don't hold up that well under deeper critical thinking. But come on here people, were talking about a movie where the lost souls of the dead are trying to inhabit living bodies. What do you really expect? Ultimately the plot holes are not enough to derail the movie any more than your typical horror film.
If you saw Insidious, and consider yourself a fan, I suspect you will find plenty to enjoy in the continuing story of the Lambert family's fight against the demons and ghosts that torment them.
If your opinion of the first movie is closer to mine, I found it wildly uneven in its tone and felt like the first and second halves were entirely different movies, I'd still recommend giving it a go. Insidious: Chapter 2 is spookier, better paced, and has a more interesting story to tell about both the Lambert family and the forces haunting them.
I give Insidious: Chapter 2 a Minor Rock Fist Up. It's far from great, but it is an improvement on the first film. It's a worthwhile entry in the often completely forgettable world of PG-13 horror.