Satire is a tricky thing, and Ben Stiller used to do a lot more of it than he has lately. The actor is extremely good at playing the put-upon everyman who finds himself in the middle of chaos ("There's Something About Mary," "Meet the Parents"), and he's made a lot of money starring in mainstream kiddie flicks like "Night at the Museum," but it's not so often anymore that the go-for-broke tone that he showed as a director in "The Cable Guy" and "Zoolander" comes to light anymore. With the bloody and cringe-inducing "Tropic Thunder," it seems that all that irascibility has been building up for quite awhile and has finally been released.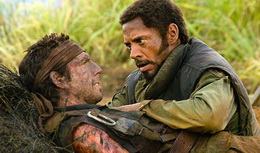 Stiller used to showcase this side of his comedy more in the short-lived "The Ben Stiller Show" on FOX in the early 1990s, but without the ability that he has in this movie to roam completely unrestrained from network censors. It's a wonder that the long-gestating script of "Tropic Thunder," co-written by Justin Theroux and Etan Cohen, ever got turned into a feature film. Who wants to see an uncompromising parody of Hollywood's backstabbing self-absorption and self-importance? Well, I do.
It may be an uneven parody, but "Tropic Thunder" is so right on most of the time that it hurts to laugh. This isn't the easy, date-and-a-movie night out that Stiller movies usually are. This film is genuinely uncomfortable. In fact, you may want to make sure you know the person you see this movie with very well because it could be hard to explain why you were laughing so hard at Stiller's horribly offensive Simple Jack character if you're not prepared for the reaction from your date.
The thing is—Stiller has his bases covered. All the lead characters in "Tropic Thunder" are complete tools. (Sound familiar, "Zoolander" fans?) Tugg Speedman (Stiller) is a brainless action star who yearns for Oscar credibility. Blonde, blue-eyed Australian Method actor Kirk Lazarus (a fearless Robert Downey Jr.) has that cred—partially because he is stupid enough to get his skin color permanently altered to play a black man. And overweight Jeff Portnoy (Jack Black) is a spoiled little heroin-addicted fatty whose farts have made him a lot of money. The fact that they are clueless about how vain they are doesn't mean that we have to be, and watching comparably normal actors Alpa Chino (Brandon T. Jackson) and Kevin Sandusky (Jay Baruchel) deal with these hot-air factories is the movie's best part—aside from the very funny fake movie trailers and ads that begin the film.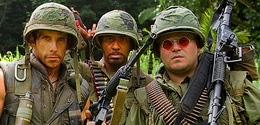 To say Downey Jr. is out on a limb with this role would be an understatement. The fact that Lazarus refuses to be himself even after it's obvious that no one is filming them anymore ("I don't drop character until I done the DVD commentary") is one level of wrongness. But to have him take offense as a black man—played by a white man—to a harmless comment by Speedman and then try to get support from an actual African-American who is not in character is a messy kind of meta wrongness. On top of that, the boundless clichés that Lazarus has steeped his badass platoon leader in are funny as well, but one can't help but feel guilty for laughing.
That also goes for "Simple Jack," the movie that Speedman stars in on his quest for recognition as an actor. Playing the most supremely offensive version of a mentally challenged person (with freckles, an extreme overbite, and a bowl cut) doesn't just poke fun at a lonely actor's desperation to be loved, but also at what audiences will accept as entertainment. The angry groups who protest the movie are missing the point. Stiller's controversial exchange with Downey Jr. where the multiple Oscar-winner warns the faded action hero never to go "full retard" isn't making fun of people with mental disabilities, it's a malicious send-up of a culture that we as moviegoers have come to accept and, by some extent, egg on.
If it sounds like a lot of work, sometimes "Tropic Thunder" is just that. Nick Nolte is the perfect grizzled war veteran and Danny McBride's offbeat delivery makes his napalm-crazy FX man a little funnier than written, but both actors are saddled with more screen time than their characters can support. Nolte in particular, is a perfect example of someone who is given a joke so obvious that you saw it coming a mile away, and the script's stubbornness to continually milk it is an unfortunate one.
Bill Hader and Jack Black are both underused, and Tom Cruise has a cameo that you've probably heard a lot about. Here's the straight deal: As funny as Cruise is in the role, it's impossible not to bring in all the baggage the actor has had recently and project the persona of "Tom Cruise" onto his character, a supremely slimy studio head. Had this been a role with something to sink his teeth into, Cruise may have been able to disappear, but as it is, you see Cruise with a bald head in a fat suit, screaming and gyrating. Again, some of it is pretty hilarious, and some of it is funny only because you know its Tom Cruise.
The fact of the matter is that "Tropic Thunder" has more downright evil laughs than anything I've seen in a while, and if it's mean-spirited charm causes it to lose a little velocity as it progresses, then that's OK. Especially since the movie never lets up on the wrongness factor until the credits roll.