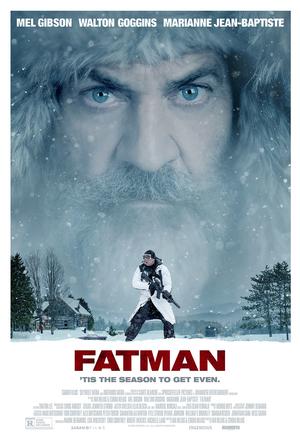 [Rating: Minor Rock Fist Up]
In select theaters Nov. 13. Available on digital Nov. 17.
2020 is a monumentally weird year, so it's only fitting that the big Christmas movie this holiday season is as equally strange. The plot is simple, satisfying, and seemingly from the rambling minds of two middle-schoolers who smoked weed for the first time.
A wealthy young boy with father issues gets coal for Christmas, so he employs a deranged hitman to kill Santa Claus once and for all. Oh, and Santa is played by Mel Gibson. Replacing holiday joy for ultra-violence, Fatman is the rare Holiday farce. In a year that doesn't feel right for watching movies of families coming together in big gatherings for the holidays, the alternative of watching a bonkers "shit hits the fan" Christmas chaos spectacle is far more appealing. 

Fatman is off-the-wall action neatly wrapped up in Christmas wrapping. Written and directed by the team of Eshom and Ian Nelms, Fatman is a fever-dream concept that only brothers could come up with together. Not everything is holly and jolly at the North Pole as "I'm too old for this" Boomer Santa finishes up his December work as bills continuously pile up. Feeling his age, plus the pain of the world not believing in him as they used to, Mad Max Santa makes the difficult decision to partner with the U.S. Military to have the elves make bomber parts in their off-season. Only getting comfort and sex scenes from Mrs. Claus (Marianna Jean- Baptiste), Santa contemplates if it's time to call it quits. Matters only get worse when a scorned hitman (Walton Goggins) is sent to kill Santa after he left a lump of coal for cynical child mastermind Billy (Chance Hurstfield).

The plot summary alone is a testament to how absolutely crazy Fatman is. Though inherently ludicrous everything in the film is played as sincere as any other Christmas film you'd find on the Hallmark channel. This is a dangerous juxtaposition to play with, but the results are pretty hilarious. It won't be expected that every viewer has the same enthusiastic takeaway, but it may be impossible for anyone to have anything but a "What the fuck am I watching?" experience. That experience alone isn't enough to make Fatman an enjoyable film, but it greatly adds to the already entertaining and professional qualities in place. Notably, the cinematography at the end is stunning. Wide shots capture the snow-packed western scenery just as well as any other non-Santa related stand-off.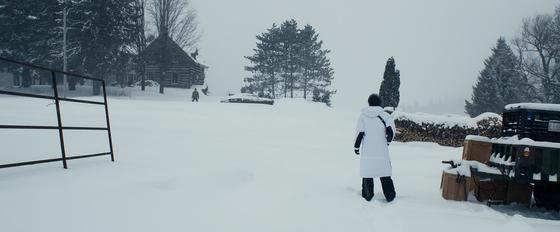 As Fatman plays the drama in a serious fashion, the film itself never commits the worst sin an action movie can commit, which is taking itself too seriously. The campiness found in the feature is used for humor purposes. Never are we supposed to believe that rough and gruff Saint Nick is sending an actual rambling message about younger generations. Instead, the film takes on a parody-like vibe. The more scenes that fit the stereotypical Christmas cheese mold, the more outlandish and funnier the film becomes. A snowball effect is created as the screenwriting process comes to life in as many absurd holiday troupes the Nelms Bros can include in a film where Santa can get shot in the chest five times and still live. It's a Christmas miracle.

For all of the madness of Fatman to work, the cast had to control the chaos in their performances. Success in this way is found on all fronts and Fatman is greatly strengthened by it. Though the dialogue is one-half silly one-half serious, the actors find a wonderful balance bringing them together for a humorous effect. Gibson plays Gibson, while Jean-Baptiste brings life to their on-screen partnership making the silly surprisingly sweet. Hurstfield nails that millennial brat troupe, while never going too obnoxious to lose sympathy for his character. There is a great mix of wanting to hug Billy while also craving his just desserts.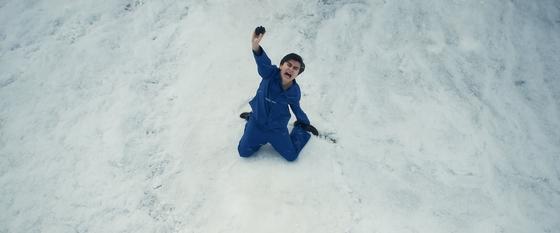 The performance of the film, however, goes to the incredible Walton Goggins. Known for bringing his humor and charm to the modern western landscape, Goggins delivers big time as the cold-blooded hitman who has his own personal grievance with Santa Claus. Goggins goes full-out crazy in his role while maintaining his compelling charm that gets you annoyed anytime the camera moves away from him. While the other things in the film work well, nothing works better than the moments of Goggins hunting down Santa, killing anyone who gets in his way. Goggins is a star and proves he can bring that presence to every role he's placed in.

For all the fun that Fatman is, it does sacrifice substance. The film attempts to be a wild sleigh ride all the way through, but in channeling the Hallmark- esque scenes, the action is more on par with a festive Expendables rather than John Wick. The scenes building to the big action moments are funny due to their nature, but at times drag until the big payoff is reached. Like the holiday and action films that Fatman parodies, at times the film gets too comfortable in its repetitive nature. For the full farce effect to work, more could have been shaved off the run time. The film is an enjoyable gimmick but is still simply a gimmick, and that can only take it so far.