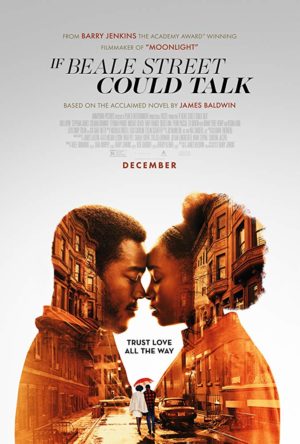 [Rating: Solid Rock Fist Up] 

If there was a film to fall in love with this January during the time leading up the numerous awards shows, If Beale Street Could Talk is the perfect one.
Coming off the success of 2016s Moonlight, director Barry Jenkins has taken the text of James Baldwin and his novel about love and injustice and created a melodramatic love story that is timeless and as important today as it was in the 1970s when it was written. This is the first major theatrical adaptation of Baldwin's novel and Jenkins has done it with great reverence.
The film shows the courting and eventual romance of two individuals: Clementine "Tish" Rivers (KiKi Layne) and Alonzo "Fonny" Hunt (Stephen James). Both Tish and Fonny have grown up together in their neighborhood in New York City and as they grow older they start to notice one another in a more adult nature. This of course, leads to their love for one another and for Tish, a realization of what love and sex offers her spirit. They plan to move in together, but when Fonny is suddenly taken out of the picture and arrested for rape, a crime for which Tish knows he could not have possibly committed, her life is thrown in a loop to prove his innocence and to take care of herself and the child she is now carrying.
Tish's parents Joseph (Colman Domingo) and Sharon (Regina King) and her sister Ernestine (Teyonah Parris) care more about Fonny's incarceration than even his own family. Sharon takes matters into to own hands even, traveling to Puerto Rico to meet with the woman accusing Fonny of rape.
Going back to Baldwin's novel, it takes time to get to the real underlying meaning to all of this. Watching the story come to life onscreen really helps to understand the main theme of the film: injustice. What is the real reason Fonny is in prison? Tish understands that he could not have been in the place this woman accused him of, so could it have been a racist cop (Ed Skrein) that Tish and Fonny have had issues with before. Even though this film is set in the 1970s and segregation and the civil rights struggle were things of the recent past, the story of a young black man wrongfully imprisoned has never been more relevant. It's as if Baldwin knew that the combination of African American men and the injustice of the justice system would always be rotten.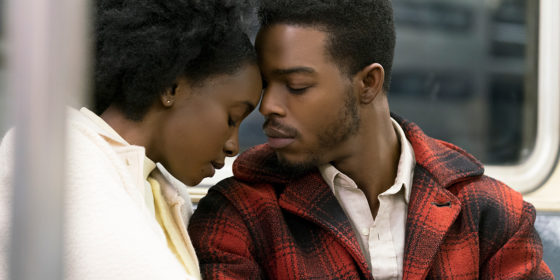 If Beale Street Could Talk is one of the most beautifully shot films of 2018. Jenkins' film feels like you're watching a love story come together piece by piece and those shots of Tish and Fonny just staring at one another are breathtaking. There's an aura of love flourishing throughout. This of course, is all tied together nicely by the score by Nicholas Britell, who also worked on Moonlight. The score is in all honesty, the greatest part of the film. It works so well and helps move the story along, while also being for this reviewer a third member in the relationship, sometimes taking over entire scenes to noticeably enhance the drama.
One would hope and wish that in 2019 now, James Baldwin would see his story come to life and be pleased with it. At the heart of it all, it's a love story. Tish loves Fonny and would do anything and pay anything to get his freedom.
Even in the 1970s, racial injustice in such a progressive city as New York spreads far and wide and these two star-crossed lovers are caught in the crosshairs.