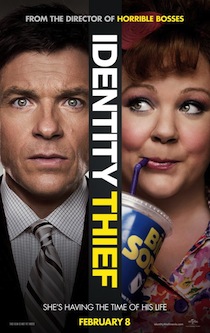 When Melissa McCarthy stole Bridesmaids two years ago, it seemed like a breath of fresh air. A gifted improvisational actress in her own right, she proved her merit again by being the single funniest thing about This Is 40, even though she was only in one scene. But again, she was a supporting character in an ensemble, and again she was able to go broad because her cast was down-to-earth by comparison.
Identity Thief puts her in a starring – or at least co-starring role – alongside Jason Bateman, one of the best straight men in the business. It also completely answers the question, "Is McCarthy ready for a starring role or is she good in small doses?" rather handily. And that answer is a definitive "small doses." Identity Thief  is a feckless, one-note comedy anchored by a plot that doesn't work, leads with nothing to do and material so weak not even Bateman and McCarthy can save it.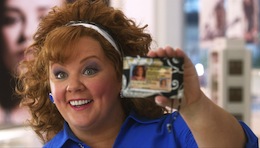 And that joke is a simple one: Melissa McCarthy is overweight. It's supposed to be funny when she's sexual because she doesn't match our definition of beauty. It's supposed to be funny when she runs because she's out of shape. It's supposed to be funny when she takes pratfalls or is hit by a car because she's a big target. But it's never funny. Not once. It's cheap and baseless and preys on the worst type of comedy.
The plot follows Bateman's character as his identity is stolen by McCarthy. He's up for a big job, but after she racks up a huge amount of credit card debt and gets a criminal record under his name, this promotion is in jeopardy. Because she's in Florida and he's in Colorado, he can't get his record clear without bringing her to his home state. It doesn't really make sense why he has to go get her himself, but it's a movie, so we'll suspend believability.
A road comedy shouldn't be this lifeless. The very nature of the genre allows the characters to briskly move from one outlandish scenario to the next, this lets the jokes to hit fast and often and provides ample room for cameos. The pacing of Identity Thief is perpetually out-of-step, and its supporting cast has nothing to do. In short, Identity Thief is a disaster and not even gifted improvisational comedians like McCarthy and Bateman can save it.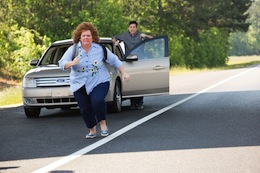 The majority of the blame falls on director Seth Gordon. Gordon scored a minor comedy hit with 2011's Horrible Bosses, but the strength of that movie wasn't his direction, it was having three talented improv comedians in the lead roles. Granted, Gordon did wisely choose to hold shots and scenes longer than most directors would have because of the comedy Bateman, Charlie Day and Jason Sudekis were coming up with on the fly. It didn't make for the best movie, but it did make Horrible Bosses a little more alive and exciting than it could have been.
There's none of that in Identity Thief. It's a boring, predictable romp that resorts to dozens of variations on the same joke and if that weren't insulting enough, it also throws a late-game twist in that goes completely against everything the characters have done prior to that point. Skip it, if you can.